This feature article was prepared with tremendous help from Oleksandr Solomakha.
I am Anatoliy Harahaty, a resident of the village of Savyntsi of the Izyum district in Kharkiv Oblast, I recently I am 70 years old and for over 50 years, I worked on my favorite things, photography and videography. In time we collected a lot of documentary films about the country and on December 29, 2021, Anatoly Haragatey opened his YouTube channel of archival video and when the Russian troops entered in the village of Savyntsi, I filmed this column for history from the window of the 3rd floor and immediately put it on the Internet since I accepted my active position. Then I laid it out the broken school of Veselivsk was then taken over by the Mansk school patriots who were stopped by people with pitchforks in their hands the column was not allowed to enter the village. Well, yes, this is the payback.
On May 28, I was arrested and was sent to the investigator's detention center in Balakliya detention center where I spent exactly 100 days alone, one of the most vicious Bandera Nazis of Ukraine or Balaklia district. Is it possible to say a person in his 70s Well, what do I want to say torture was what the boys said after all, there is nothing to confirm here. We have seen all this."
Anatoliy Harahaty, April 27, 2023
On April 27, 2023, I went to the Ukraine Media Center's panel on torture to hear more about what was being investigated and who was doing the work. The panel that day included members of the ZMINA group with Oleh Hnatiuk and Borys Petroniok. They were joined by Denis Lysenko, a representative of the Prosecutor General's Office.
The title of the report, "Torture and Ill Treatment of Civilian Population in Ukrainian Territories That Were Under Russian Occupation" was released for April 2023.
The report covered stories from the occupied territories in Kyiv, Kharkiv and Kherson with examination of both organizational approval and the details in various testimonials. An upcoming NatSecMedia report with the ZMINA team will be published May 15, 2023.
MEET ANATOLIY HARAHATY: VIDEOGRAPHER
After the panel concluded and I took a group photo with Anatoliy, Oleh and Borys. Then, I discussed doing an interview and decided to take our team to his hometown instead of an interview far away in the capital of Kyiv. Anatoliy was eager to welcome us before we even left and our team was looking forward to meeting this energetic man.
We watched all of his videos, made notes of his life and the obvious questions about his detention and abuse and made a clear decision: We wanted to see Anatoliy Harahaty as a full person who had a life in Savyntsi where he lived with his wife, raised kids and documented the history of his area of the country.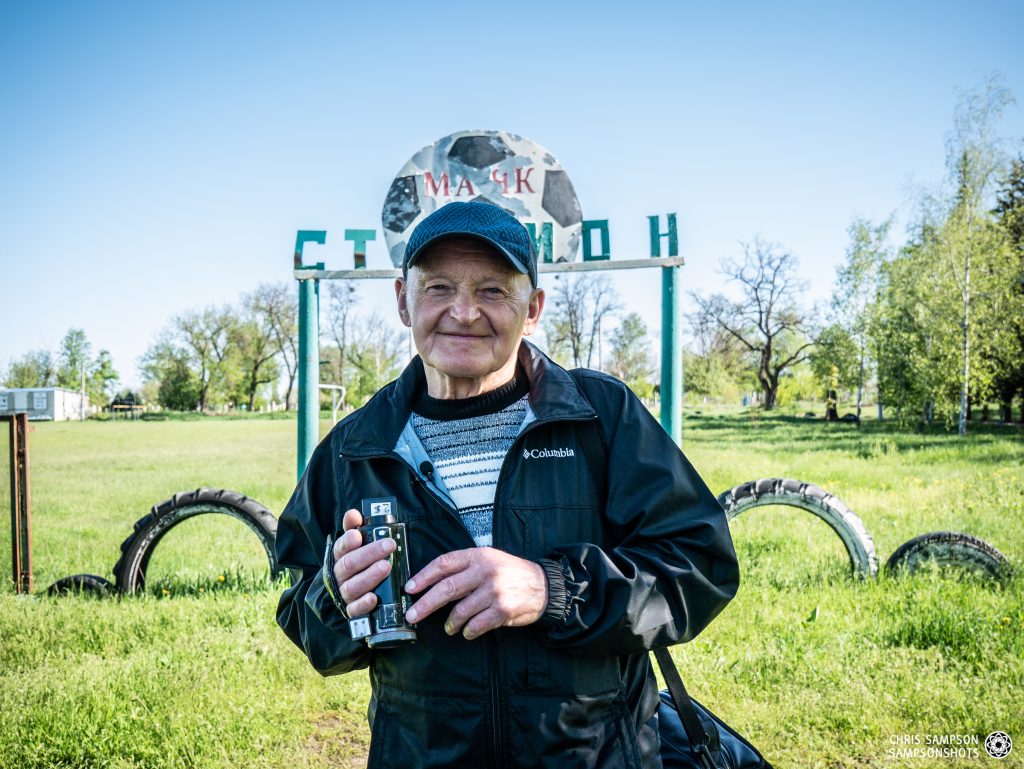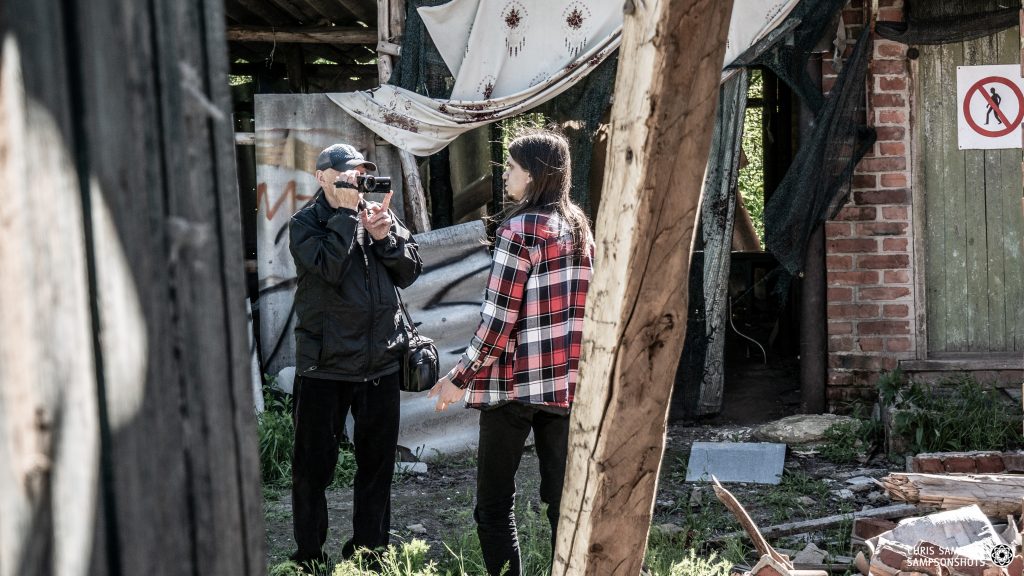 When we first arrived to Savyntsi, I saw Anatoliy on the side of one of the main streets with a smile and his little hand held video camera ready to go. This guy was for real in every way. He already had some places he wanted to tell us about including his friend's home that was both destroyed and used by the Russian Forces to torture citizens in the area. But before we could start our interview, Anatoliy turned his camera on us and asked what inspired us to come to his town to cover the stories. It was a sign of who we were blessed to spend time with..
After telling us about the destroyed home in front of us, Alex asked him to tell us how he decided to document the local history for the past three decades. Many who were subjects of his videos in their youth now get to see themselves in those videos. If it wasn't the schools, it was veterans groups, perhaps a wedding or special event including many New Years and other holiday events.
And after going through that answer, Anatoliy pivots back to the obvious, "how did the world not see this coming?" How did the world miss Russia's repeated aggressions against neighbors over a century and most recently in Georgia, Moldova, and the nearly decade long invasion of Ukraine. His disgust is well placed after you realize he was held for 100 days and tortured by Russian forces.
ANATOLIY INTERVIEWS THE INTERVIEWER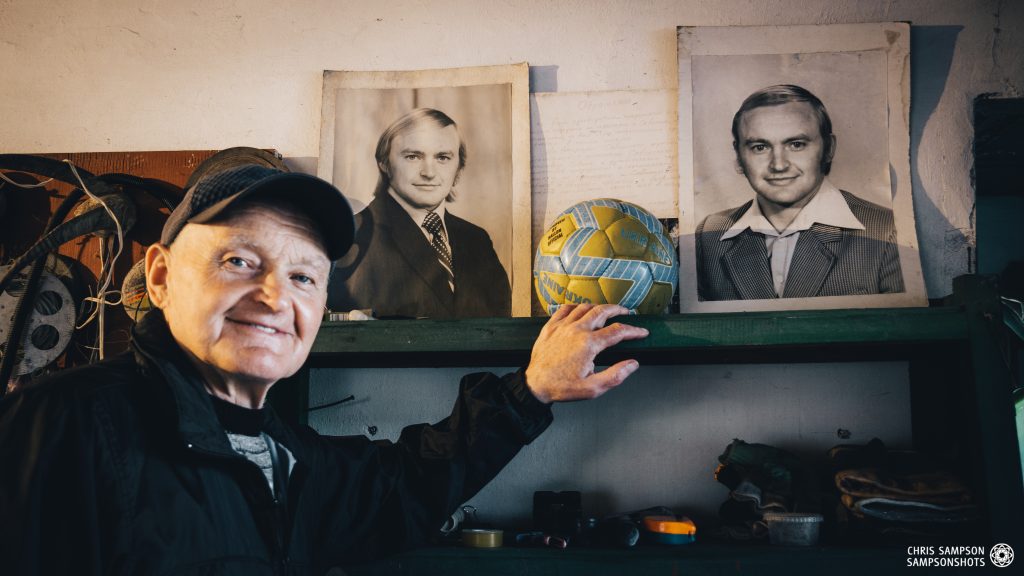 FOOTBALL: A CENTER OF LIFE
There's nothing like the football club to Anatoliy and his community. At this field, he told us about the days of local clubs. In 1985, there were five clubs playing at this stadium in Savyntsi. Over the years, he had documented the games, the teams, the history of the game and as the town was trying to find itself again, he sees this history as a vital part of that reclamation.
Back in the day, he was a forward and would trade the camera off between plays. His memories of the great days are vibrant and present.
THE BEGINNINGS OF A CHRONICLE
Just down the way from the soccer field was the local school where he started doing his work documenting the community 30 years ago with his videocamera. He graduated from the school in 1970. He then graduated from the army in 1973 and became a chauffeur and after a car accident he decided this wasn't his calling. He was to become a photographer instead. In 1992, he bought a videocamera and began chronicling the students who were going to grow through class after class.
His work in the studio is an archive of the town's legacy. Over 30 years, he documented the local villages in the region. While the Russians stole the computers and cameras, thankfully many of these tapes were untouched and would require being redigitized to preserve the video legacy of the area and Anatoliy's work.
The Russians took all of his equipment. He currently uses a borrowed camera to document the local stories. When asked if he had any favorite moments in his archive, he made clear, it was all his favorite. He was honored to be part of recording all of it. His gratitude permeated the present moment.
ENDURING THE WORST: A TEST IN COURAGE
The Russian Forces held and tortured him for 100 days and he refused to film propaganda or refuse his identity as a Ukrainian.
Alex sat down with Anatoliy in his home to ask about the events that brought us to him. On May 28, 2022, 8 Russians without masks and one with a mask that came to detain him around 6'oclock in the morning with the obvious assistance of locals who gave away where he was to the occupying forces. 
Anatoliy had been uploading the decades old videos to his YouTube channel starting in late December 2021 and continued until weeks into the full scale invasion that began on February 24, 2022. The Russian forces entered his area in the first week of March 2, 2022. They were driven out and by September 4, 2022 Anatoliy found himself unexpectedly released as the Ukrainian forces raised the flag in Balakliya.
He said he was taken to Balakliya investigator and isolated in a room. He called a "Dangerous Criminal" and accused of being a "Banderite", the Russian term for Ukrainian nationlists, called a terrorist and then demanded that he upload proRussian videos to his YouTube account. He refused. He was tortured with beatings and electroshock for speaking Ukrainian, which he does proudly in defiance. There were eight interrogations against a 69 year old man who videoed the Russian troops entering his town as the local historian would be expected to do.
The story turns to the invasion and how it was when some neighbors greeted Russians as liberators. He makes it clear, go live in Russia if that's what you want. "Do pobachenya" means "goodbye". He recalls the 1991 establishment of Ukraine's independence and how it was clear that the people voted to be Ukraine. He also points out the "paradox" of having a nation occupied by the language of another, Russian. Why, he asks.
He still speaks with a chill about how insane it would be that some Ukrainian citizens who were even tortured could still romanticize being part of the Russian Federation and worse would betray their fellow Ukrainians to occupying forces.
His wife repeatedly came to ask about him only to be turned away by the Russians. He lost 10 kilos starving in captivity and emerged with a beard. When he mentioned seeing his wife after that long, his voice tightens with the pain and overwhelm of that moment.
But the Anatoliy we came to visit was much bigger than the Russians could break. He was a dedicated servant of the people with his many years of tirelessly devoting his lens to document their lives. As the world etches names like Izyum into the collective record of world travesties, it will be his videos that remind people of a time when life was quiet and local.
Looking around his work office, we're shown photos of his life including fishing photos, soccer matches and events very personal of good days. His computer monitor has his YouTube channel present with his latest updates. He is determined to keep telling the stories in his community and we'll be there to listen.
In the final part of the interview, the discussion turned to the camera with questions on what he'd like to use and his pending missions in a life still being written. He said he was not going back into photography but liked using his videocamera to document the stories.
We would like to help get him a camera or two exactly as he likes to use so he can document the area's stories. Send us a message via our contact form for further details until GoFundMe like page is started.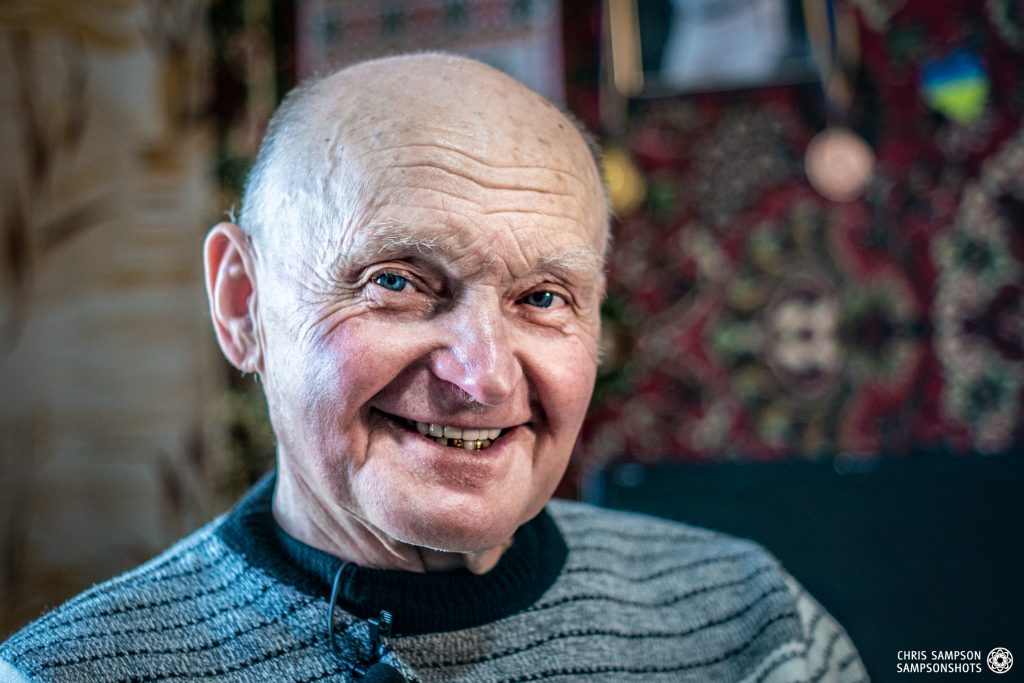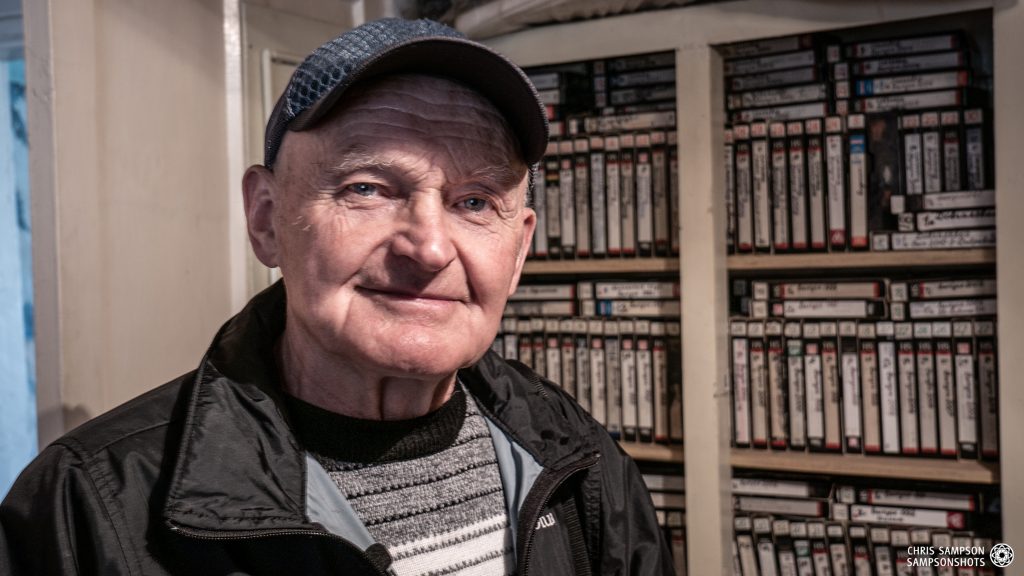 SUPPORT INDEPENDENT JOURNALISM.
Please consider a donation to fund our mission.