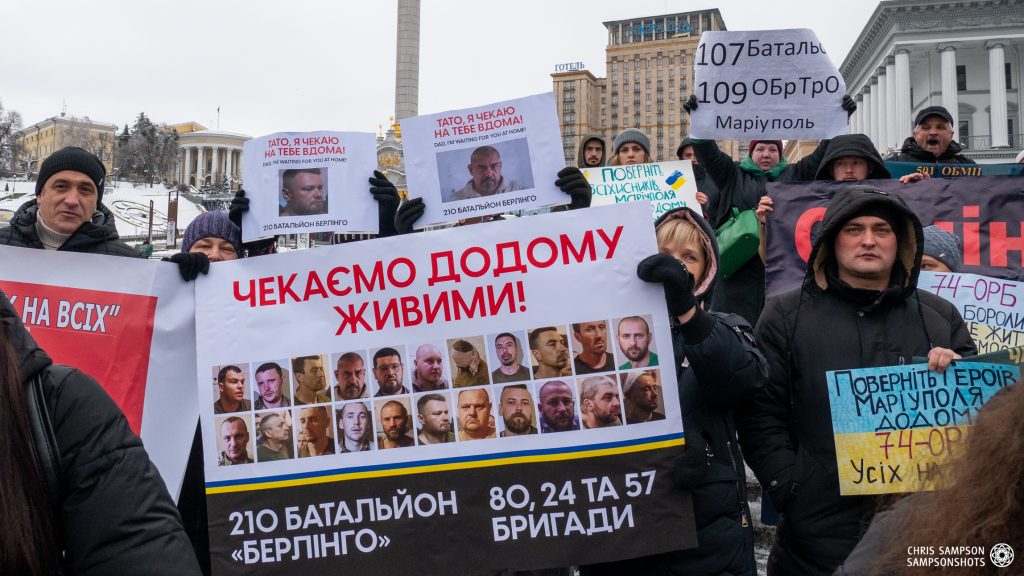 MARIUPOL SOLDIERS STILL HELD BY RUSSIA: FAMILIES DEMAND ACTION
On November 22, 2022, a group of families met at Kyiv's Independence monument to make their voices heard as they demanded to hear about their captive loved ones. 
Representing several layers of fighters who were in the Armed Forces, Police, Border guards, the families are demanding to find their captured loved ones. Then again on December 3, 2022 in front of St. Michael's Monastery to unite their voices in demand for releases. One just released soldier, Dmytro was on hand to stand in solidarity, still admitted to a hospital.
For examples, at least, 265 members of Ukraine's 501st Separate Marine Battalion, 36th Brigade, and members of the 25th Brigade, Airborne Assault Troops, are in captivity. They have been in captivity for 8 months. They were positioned in Shyrokyne.
The fighters were in a standoff, bombed and shelled for over a month, surrounded by 20 thousand Russian soldiers, without food or ammunition. They bravely defended the city and its inhabitants until the last moment. After the blockade, they were captured and though 20 people have been released these 265 brave Ukrainians have been held captive ever since. It is time for the international community to demand their release.
MISSING ALSO INCLUDE:
Oleksandr Serhiyevich Geivakh, DOB: April 4, 1990,  25th Brigade, 5th company, 2 battalion
Disappeared May 14, 2022, Donetsk region, Yasynuvatsky district, Tattoo on arm, "Forgive the Lord for the tears of his mother"
Mikhailo Oleksiiovych Hnatiuk, DOB: June 1, 1990
Andriy Oleksandrovich Bilous, DOB: December 21, 1986
Lytvyn Yuriy Vasyliovych, DOB: November 4, 1975
Oleksandr Volodymyrovych Shvets, August 9, 1987
Babenko Vitaly Yuriyovych, DOB: February 18, 1985
Chernega Vitaly