It is possible that convicted murderer Yevgeney Nuzhin thought he was on his road to freedom, he found that joining the mercenary army under Yevgeny Prigozhin was guaranteed road to his death.
His boss, Yevgeny Prigozhin, said he was a dog who died a dog's death. Prigozhin preened, "It was an excellent directional piece of work, watched in one breath. I hope no animals were harmed during filming."
Nuzhin had been captured by the Ukrainians. The video of his interrogation by the Armed Forces of Ukraine was public. When he was returned to the Russians, he met his fate and further revealed how inhuman they are.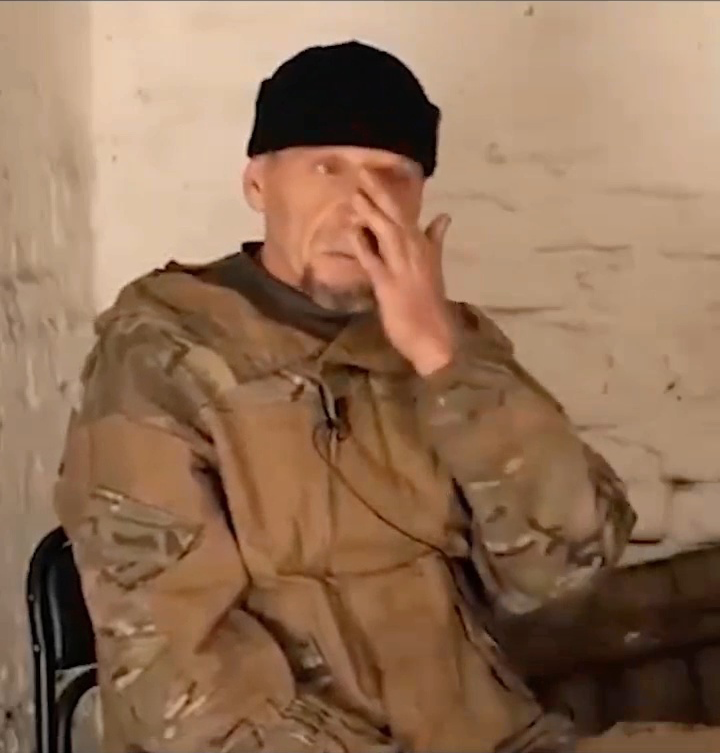 In the interrogation video released by the Ukrainian forces, Nizhniy states he is from the village of Perevozin Novgorod Oblast. Perevozin is 500 kilometers east of Moscow, population just under 10,000.
Nizhniy was a convicted murderer. In his video for the Ukrainians he cites the 1999 era of "banditism" and said he was forced to kill under circumstances. He was sentenced to 24 years in prison. Additionally, he tried to escape prison and was given another 4 years. He was serving his sentence in the northern Urals. He was later sent to IK3 in Ryazan Oblast. 
In July 2022, he states a helicopter landed near the camp and the prisoners were all brought to the "central ground". He didn't know at the time but later learned it was Prigozhin, with a Hero of Russia medal", who spoke to them. He was there to recruit for the fight in Ukraine with a promise of both amnesty and 100,000 rubles, or around $1650 USD. Further the recruited fighters were promised 5 million rubles for their family if they were killed. Prigozhin returned to the camp again to pitch the offer a month later.  According to Nizhniy, 92 prisoners agreed to go on the the second round on August 25, 2022.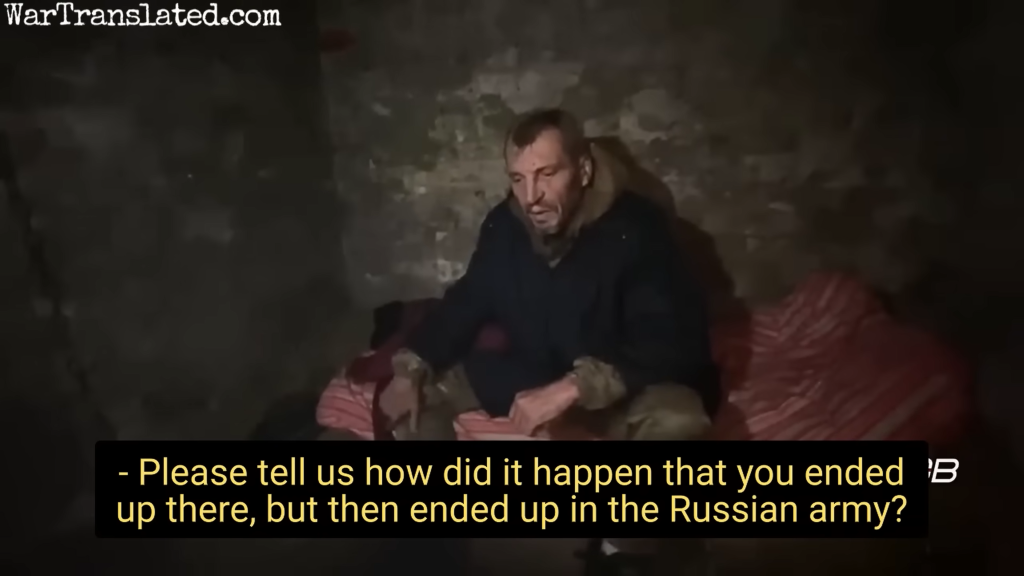 Upon their departure, he said they were transported to an aerodrome near Rostov then transported to Luhansk, "or whatever it is called" he said. He was assigned to the 7th Assault Unit and spent a week in a training camp up to September 2, 2022. His training consisted of handling and reloading his weapon, shooting practice, and nothing more. He was brought helmet, armor and knee pads. Despite given a gun, he was not supplied with ammo. In Luhansk he and others signed tons of paperwork, contracts to work with Wagner.
He added, "As I understand, there was 1st, 2nd, 3rd, 4th, 5th, 6th, 7th, but no more than 7" units. He said he noted no hierarchy in his group.When the Ukrainians asked him what the objectives of the Assault Units would be, Nizhniy responds, "For myself, I understood, cannon fodder". Further, he said if you did anything wrong the Wagner guys would "nullify" you. He said there was no real opportunity to speak to other convict mercenaries because doing so risked being "nullified". He said there were around 60 convict mercenaries from IK3 in Ryazan. He estimated most convicts were "drug addicts". "I noticed this tendency in Russia since 2009."
He tells of a convict who was "talking shit and got nullified" for arguing with an instructor at the training camp. He was shot and buried.
When Prigozhin would arrive, guns were taken from the prisoners turned mercenaries but returned to them when he departed. Prigozhin would ask if anyone had complaints like wrong uniform or boot sizes. On the day he arrived at the Luhansk camp no training took place in lieu of awaiting his inspection.
On October 2, 2022, he was deployed to his positions but he was in residential areas not military locations. He was picked along with 16 others to pick up corpses after dark.. His group commander was not a convict. He surrendered October 4, 2022. During the night he decided to surrender to Ukrainian forces. He had hidden in the trenches during shelling in the day time and collected dead fighters at night. 
Upon his capture, he realized the propaganda fed to him about Ukrainians was false. "I saw normal people," he said. He was given boots and "proper humane treatment" When asked about his future, he said he would like to fight for Ukraine, 'because it wasn't Ukraine that attacked Russia, but Putin attacked Ukraine."  His final comments in the Ukrainian forces video, "Wife, I'm alive. All is well." His wife was Olga Viktorovna from Tula Oblast. 
Nizhniy was interviewed again on October 12, 2020. In the interview he discussed how he joined Wagner, what made him surrender and the economic conditions for prisoners who are wealthy and who are poor. Clips of both of these interviews would later be used against him.
Nizhniy was apparently exchanged in a prisoner swap.
In second week of November 2022, a video called The Hammer of Revenge" was published to the Telegram channel, "Grey Zone".
In the video he states he was born in 1967. The video shows Nizhniy with sitting vertically with his head strapped to a concrete block. He states who he is and that he worked with the Ukrainians and is then hit from his right side with a sledgehammer from behind by a large man with camouflage fatigues and no specific markings. Two seconds later the executioner strikes his dead body again.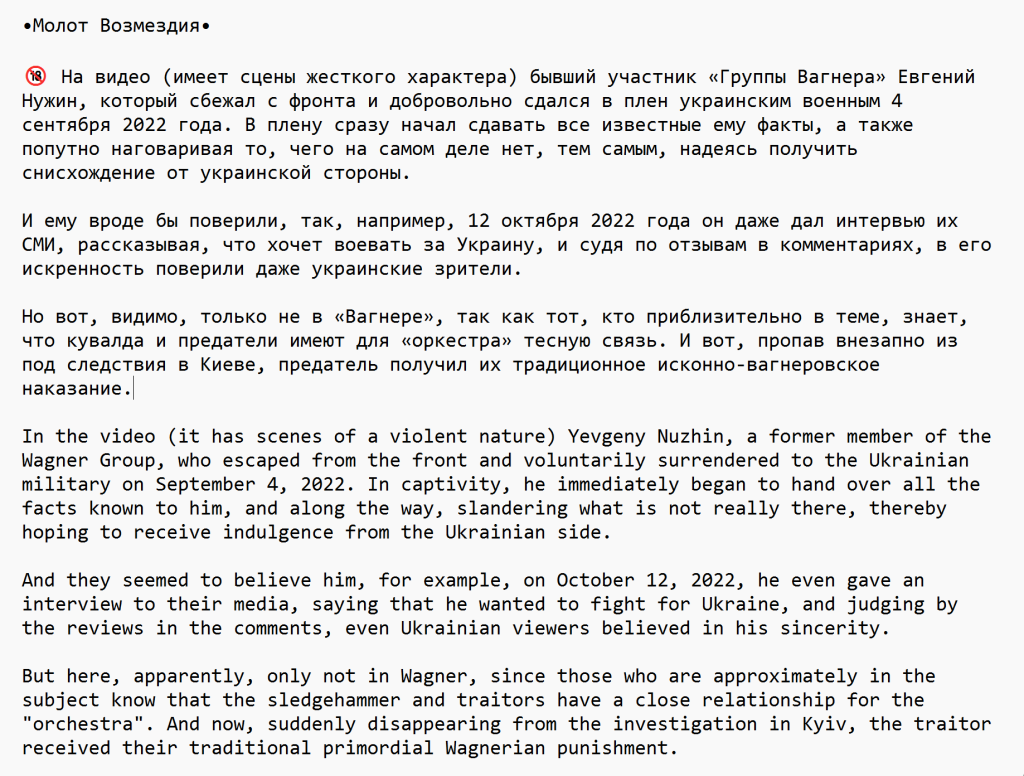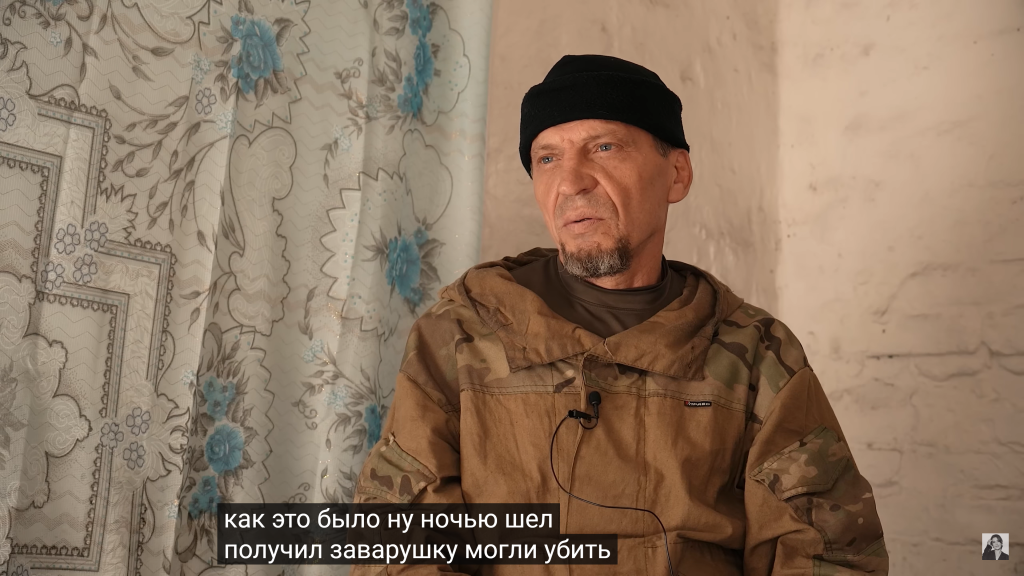 Prigozhin's response to the video:
Press service of the company "Concord"
yesterday at 10:32 am
#920 Request from the editors of the publication "People's News" and the answer:
REQUEST:
A video with a certain Yevgeny Nuzhin, who was allegedly executed because he, being a fighter of the Wagner PMC, fled to the side of the enemy, is circulating on social networks today. Can you comment on it somehow?
ANSWER: We are publishing a comment by Evgeny Viktorovich:
"I prefer to watch history in the theater. As for the sledgehammer, in this show it is clear that he did not find happiness in Ukraine, but met with unkind, but fair people. It seems to me that this film is called "To the dog – dog's death". Excellent directorial work, looks at one go. I hope no animals were harmed during filming."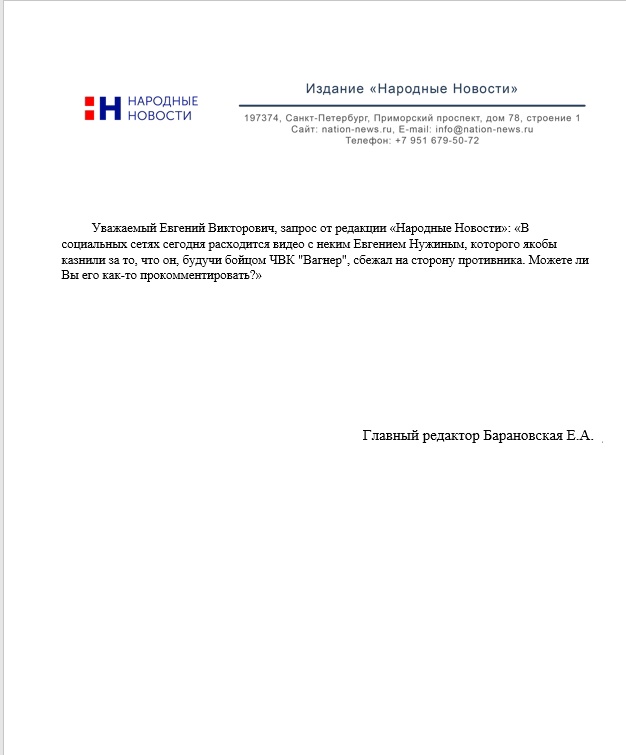 Prigozhen denied ownership of PMC Wagner for a long time until September 2022 when he bragged about it openly in a post on Concord's VK page:

"Let's briefly go over from the origins, as it was.

In 2014, when the genocide of the Russian population of Donbass began, when Russia jumped on the last steam locomotive and managed to block the arrival of the Ukrainian army in Crimea, I, like many other businessmen, went to the training grounds where the "Cossacks" gathered, and tried to squander money, for in order to recruit a group that will go and protect the Russians. But I quickly realized that among all these "Cossacks" and other paramilitary comrades, half were swindlers, and half of those who took the money hired volunteers and sent them naked and barefoot to real death. Then I flew to one of the training grounds and did it myself. I myself cleaned the old weapons, figured out the bulletproof vests myself and found specialists who could help me with this. From that moment, on May 1, 2014, a group of patriots was born, which later acquired the name BTG "Wagner".

After that, for a long 8 years, during which every curious journalist and every shameless bastard was poking around in the sweaty underwear of Wagner PMC in an attempt to find a negative. These brave guys, who knew only one thing – to fight, to protect the disadvantaged, to stand to the death on the side of good and justice, were always in a precarious position. They could not turn away from their favorite business, in which they were professionals of the highest level, and sit on the bench of the unemployed. So, from the commander of an assault unit, who every day catches bullets and fragments in his shabby bulletproof vest, you could go to the guards of some eccentric micro-oligarch, whose wife will force you to carry shopping bags.

I am proud that I managed to defend their right to protect the interests of their country. There were hard and very hard times, each dog tried to splash their saliva on them, and, as you know, on me, attributing all non-existent sins and sins.

And now the time of revelation has come, please do not confuse it with the Day of Judgment. These guys, the heroes who defended the Syrian people, other peoples of the Arab countries, destitute Africans and Latin Americans, have become one of the pillars of our Motherland. Without blinking for a second and without doubting, one must live or die. Live by the rules, do what you must and be what will be.

Now the answer to your question.

For a long time I avoided the blows of many opponents with one main goal – not to set up these guys, who are the basis of Russian patriotism. And he won on this occasion in numerous courts, including abroad, because in any case there should always be a place for sports and matches must be won on the opponent's field.
Execution videos typically have a main message to a specific target audience. In this case, it was a message to Russians, you will be forced to fight and if you do not fight then you will be killed. The video script is not all that different from ISIS execution videos where a man is forced to confess turning on the authorities and working with the other side before being killed on camera.
That Wagner so brazenly published the video tells us how confident they are under the wing of Vladimir Putin. They are his attack dogs and the victims of the bite will not be limited to Ukrainians. He will use those dogs on Russians just as quickly and with a savagery that is primal and brutal.