ATTACK ON KYIV
Shevchenko Park
ATTACK ON KYIV
Strike hits near 101 Tower, the location for the headquarters of Samsung and the German Embassy visa office
ATTACK ON KYIV
Air strike misses Glass Bridge but causes significant damage
Airstrikes hit Kyiv on October 10, 2022, just after 8 am. At least 5 sites were struck by Russian missiles. Taras Shevchenko park area was hit twice, first at the intersection of Tarasa Shevchenko Blvd and Volodymyrska with fatalities and many wounded, followed by another strike on the playground along the central east side of the street. 
In other areas, there was a strike that hit just under the pedestrian "Glass Bridge" that overlooks the Dnipro River. Further west of the park, 101 Tower, Samsung Headquarters, was struck along with the adjoining complex buildings. South of the center of the city, a warehouse or oil container was struck causing dark plumes of smoke to fill the sky.
At the same time, reports of multiple strikes were coming in and those were hitting critical infrastructure in Lviv, Zhytomyr, Dnipro, and Kharkiv, 
Today's attacks targeted more cities across Ukraine than since the beginning of the full scale invasion launched by Putin on February 24. In Kyiv, it started with an air alarm, which signaled Putin's reaction to the attack on the Kerch bridge joining Russia to Crimea.
It was known he would retaliate. This would be his first response. American intelligence staff had told US news media that Putin had this planned well in advance of the Kerch Bridge attack. The coordination needed for an assault this widespread in such a short time span would appear to confirm this assessment.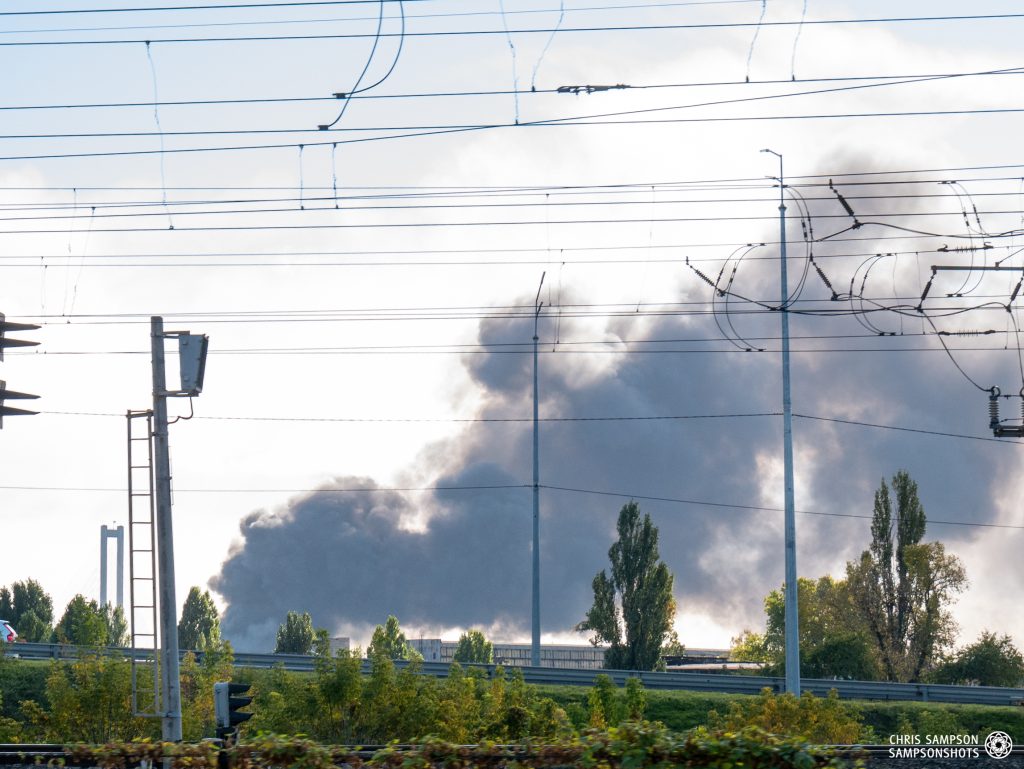 As I woke to a rather routine sounding air alarm around 7:30 am Kyiv time, I didn't have "chasing strike locations" on the menu. The camera gear is always charged, and if I'm lucky, so is the phone, watch, and earpods. They all seem secondary until you require them. I slammed the chargers in the bag because I knew this time it was different. 
The texts came in from my Ukrainian friends first, "Did you hear that? just west of me", read the first one. "Chris, wake up, I think we're being attacked", read the next. The following text was from an American friend, "Are you hearing these?" I confirmed I was and asked everyone to be on alert, take notes, and stay safe. Next I grabbed my bags and media pass before flagging an Uber.
One thing about Ukraine is that Uber is an accessible service until it isn't. On this occasion it was not available, so I proceeded to sort through and find other options, Uklon, Bolt, or head on to the street and watch for a taxi driver that looks interested. I wound up with a Bolt driver. He was a young guy that didn't speak enough English to allow an easy flow of requests. I asked a few things in Ukrainian in an attempt to establish an understanding. "Take me to the air strikes near Gulliver." 
With many friends around the city, each had a perspective of where they thought something had happened but then I had to determine if there was one strike, two, or in this case, at least five.
One thing to remember in any country is that "ok" doesn't necessarily mean the driver understands you. It just means he wants you to think he understands while he goes back to his GPS. He had Gulliver assigned to the destination point. As we passed one intersection, I saw a massive plume of off my left that clearly showed something with lots of carbon was burning, like  petroleum or oil. The driver refused to relent and continued to his GPS destination. I pulled out 200 hryvnia and handed it to him to take me to that attack site. He refused because of the GPS. I acquiesced to his path and once there flagged a ride back to Shevchenko park.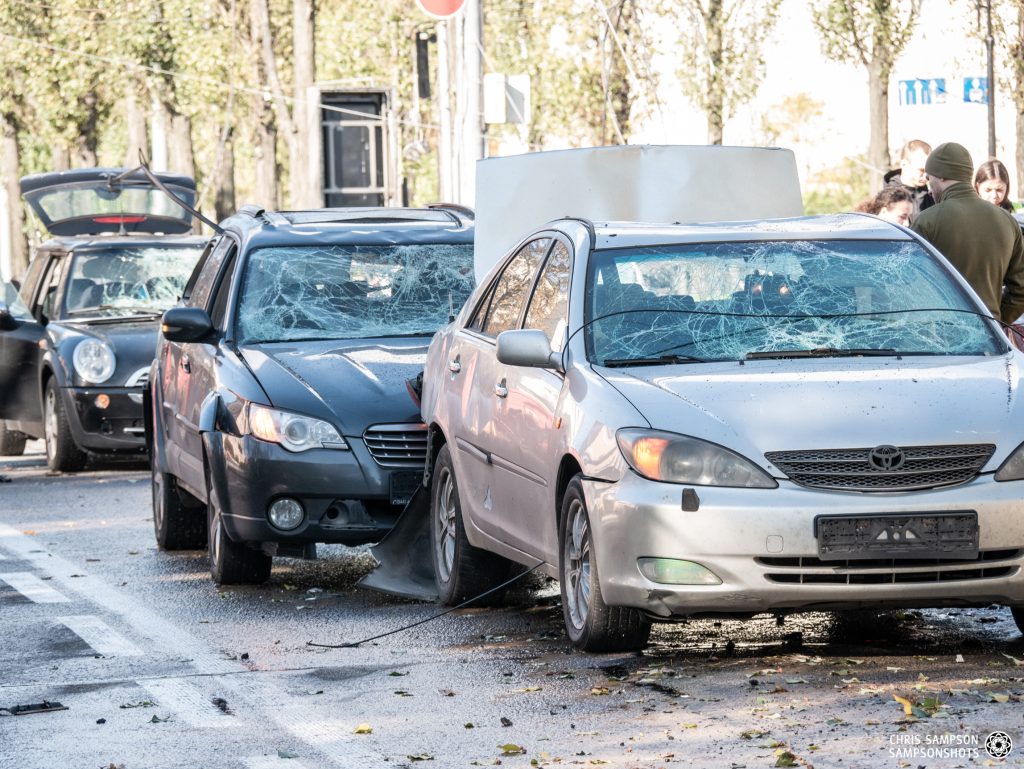 I could see there were two locations but was confused because someone said a bus had been hit and that there were immediate casualties. One of the casualties in an emergency situation is clarity of communications mixed between official channels and word of mouth with friends. Further, if there was only one site struck on the day or in the moment, it would be tough enough. In fact, as we were responding to one site, two others were hit while we were in transit.
We circled around the city. The buildings in Kyiv are massively tall especially viewed from the back of a small compact car, while I was trying to birddog the event. Eventually, we found the smoke near South Bridge and navigated our way there. The closer we got, the larger the perimeter of industry. Warehouse yard after warehouse yard would say go back to the other attack sites. There was no bus at those locations so we headed back to Shevchenko Park.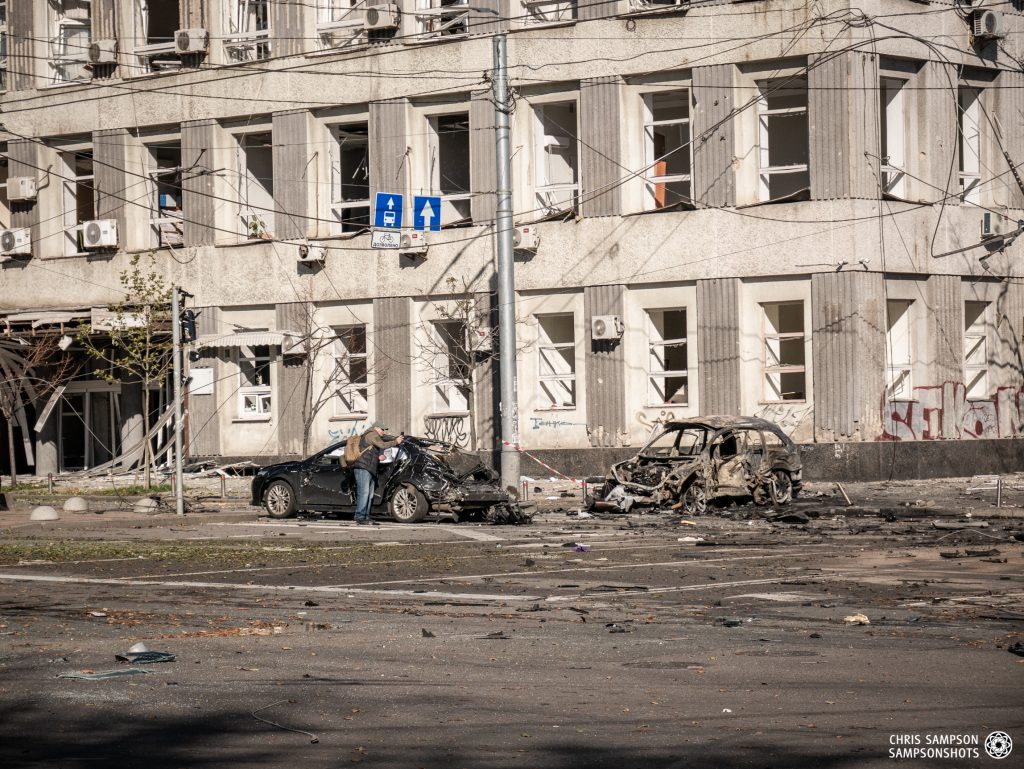 I arrived back at Shevchenko park with the event still unfolding. Water was flowing down the hill from the effort to extinguish the flames. Perimeter guards kept anyone but the press away for at least a block and even we in the press were held back to let emergency services finish vital tasks. People were being kept back by a very professional Kyiv police force and some army support to isolate the area.
Two locations at the park were struck in sequence. The park is on the east side along Vulytsya Tereshchenkivs'ka Street. Across the street from the park is a residential building with a pub called "Strong Bar" located just underneath. Just to the west of the park is the central area with the monument to Taras Shevchenko and straight on from there is the Taras Shevchenko National University building, a grand-sized red building along Volodymyrska St.
At the intersection of Tarasa Shevchenko Blvd and Volodymyrska were the destroyed vehicles and deceased citizens that moments ago were traveling to their Monday morning tasks, unaware of what was about to happen. The entire intersection is surrounded by buildings of higher learning, the brain center of Ukrainian knowledge in Kyiv. It was named after a voice in Ukraine, the Russians have tried to extinguish for generations. Taras Shevchenko.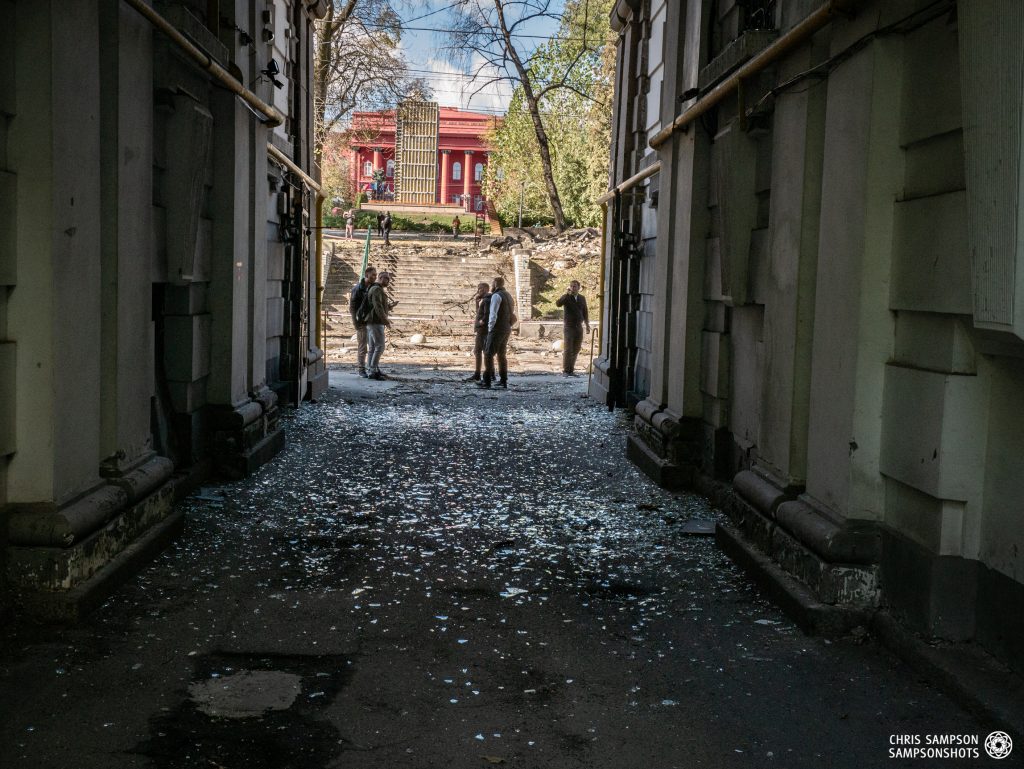 As I documented destruction near the two parts of Shevchenko park, I was asking locals about their safety and reaction. Residents around Vulytsya Tereshchenkivs'ka Street told me they were ok but that I should look at how their glass is all blown out. Already you could hear the brooms cleaning up the glass even as air raid alert remained in effect. Life in Ukraine has become all about maintaining a clean home in the face of aggression.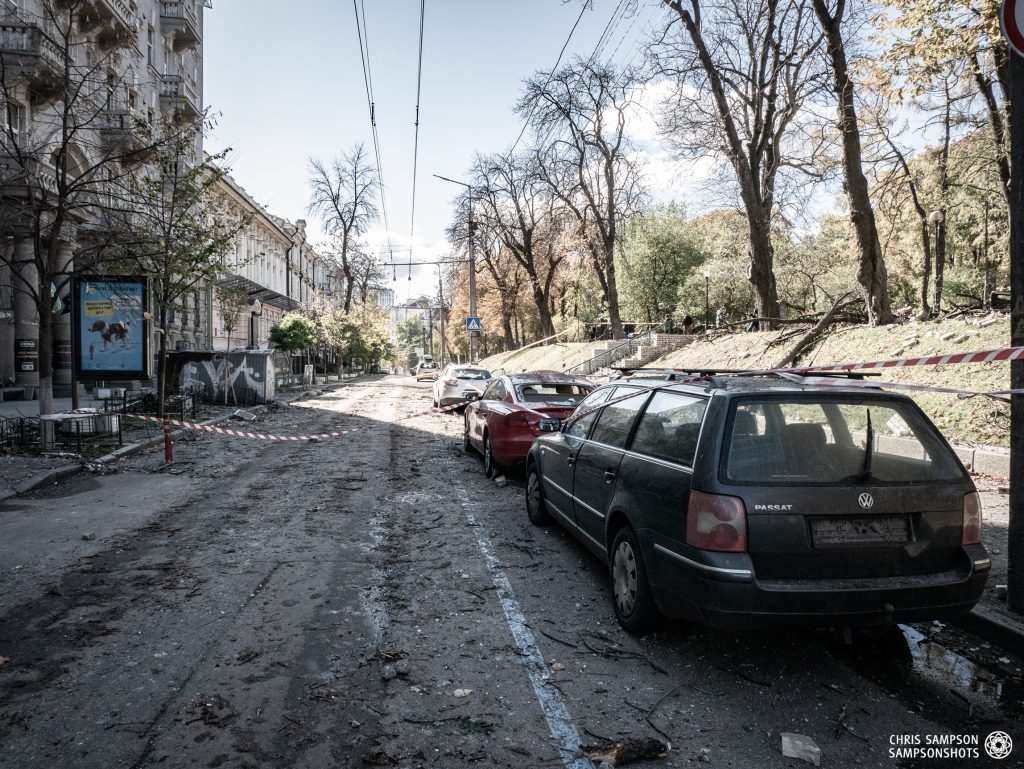 Back at the intersection, one victim of the attack remained in the intersection. The lifeless person was still exposed, face up as onlookers gathered, both journalists and residents. Police maintained a very professional decorum with all present. The perimeter around the intersection took top priority compared to the playground, which indicated to me that no lives were lost at the playground. The intersection was just yards away with at least 5 dead, 42 requiring hospitalization and others who were injured but released on site.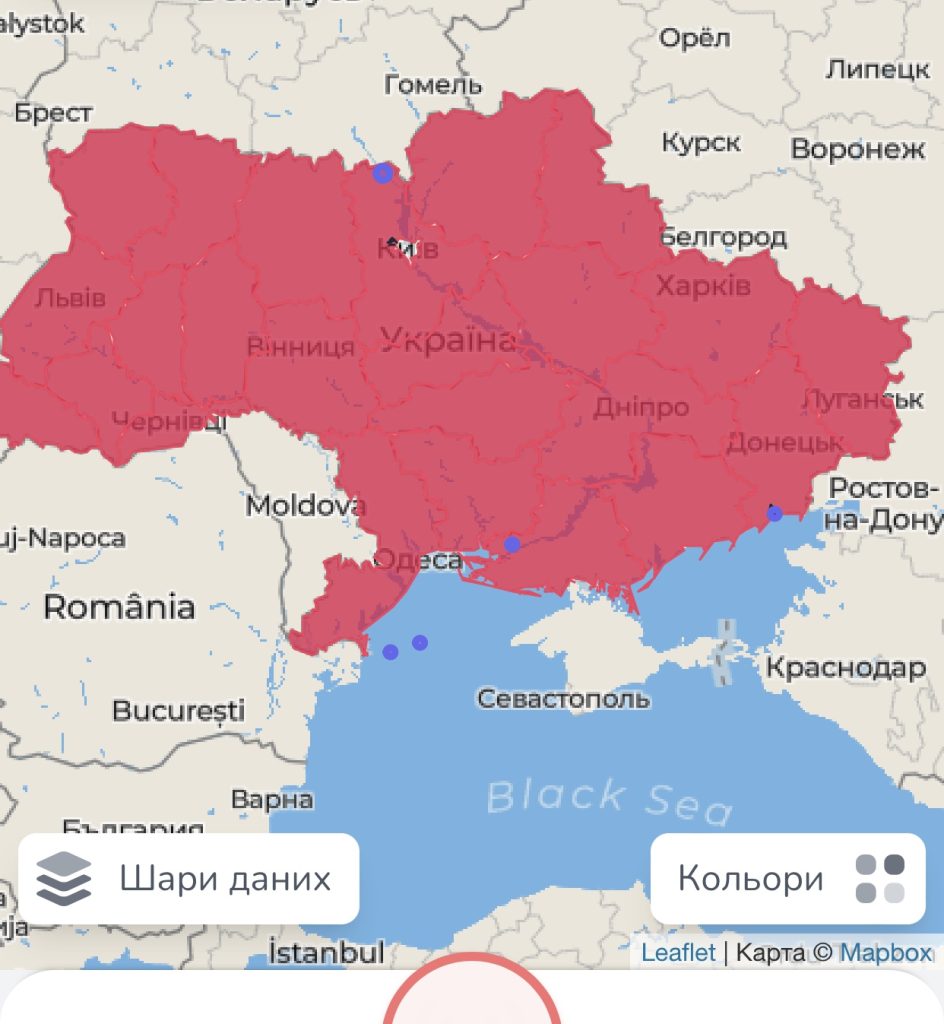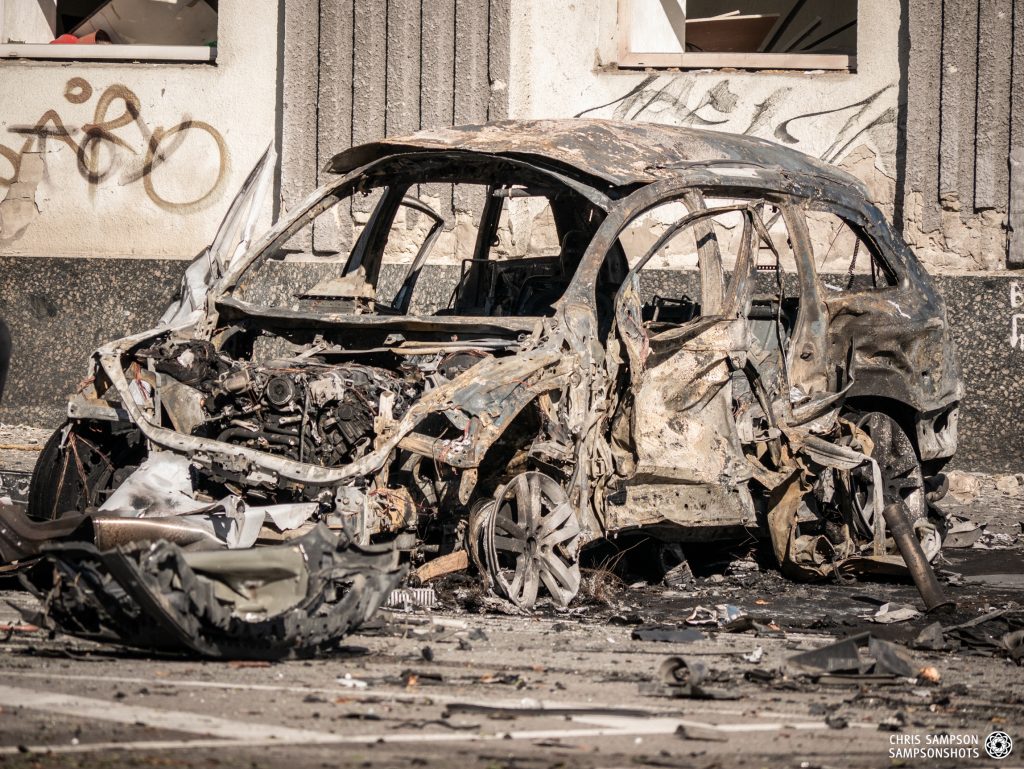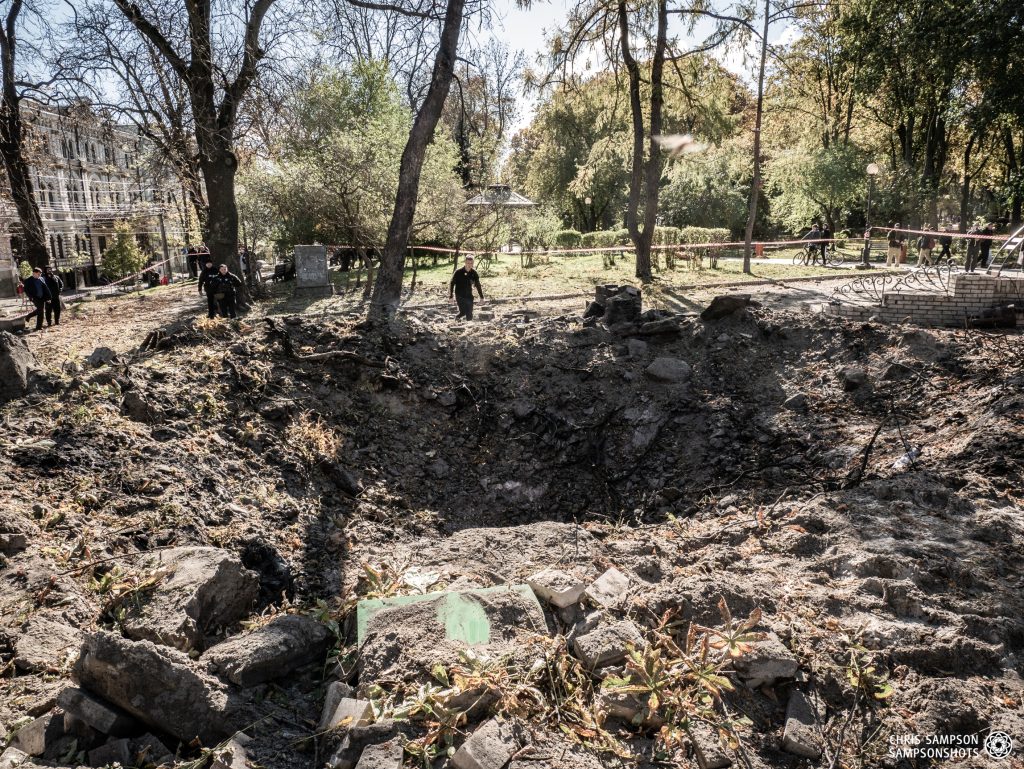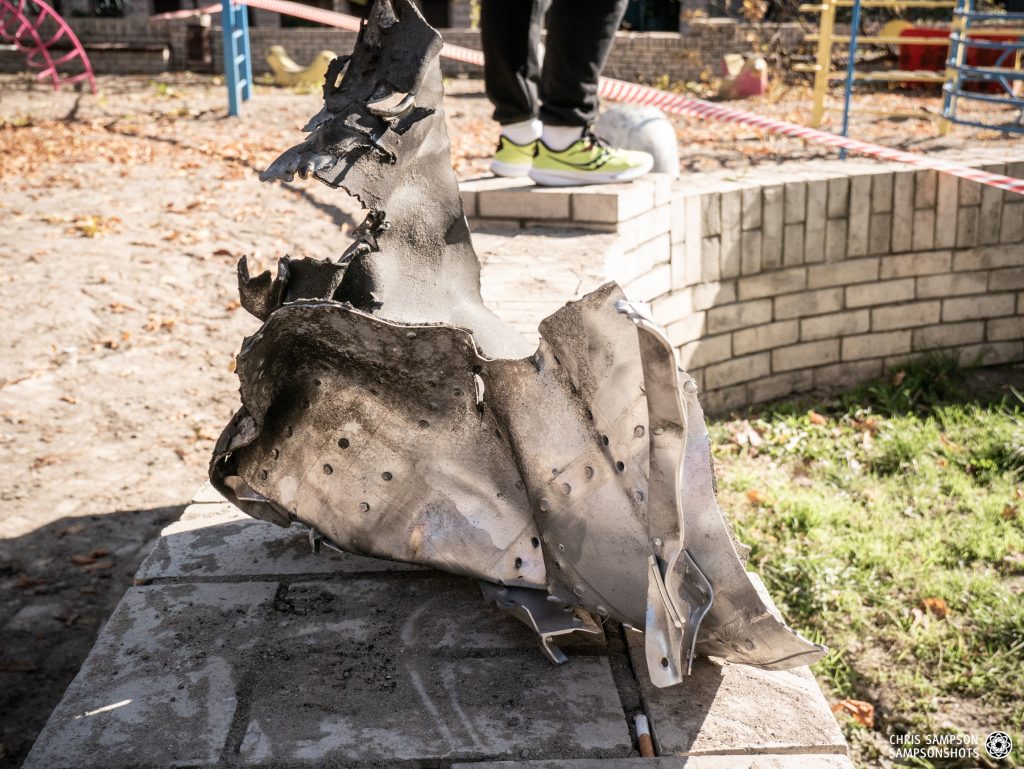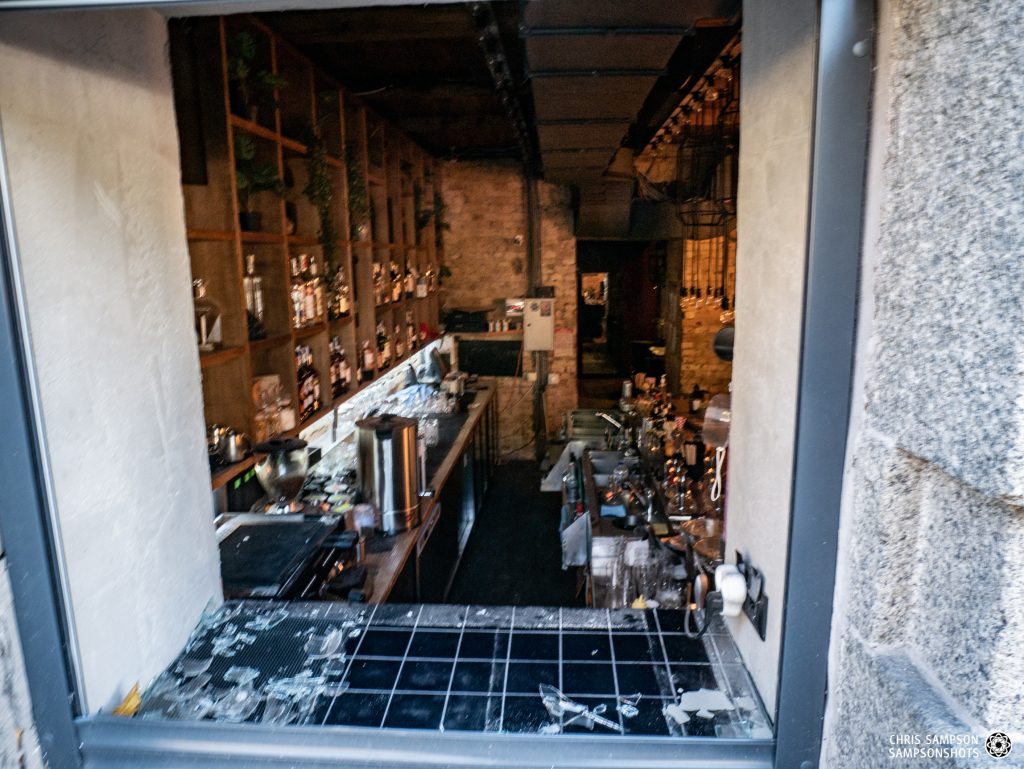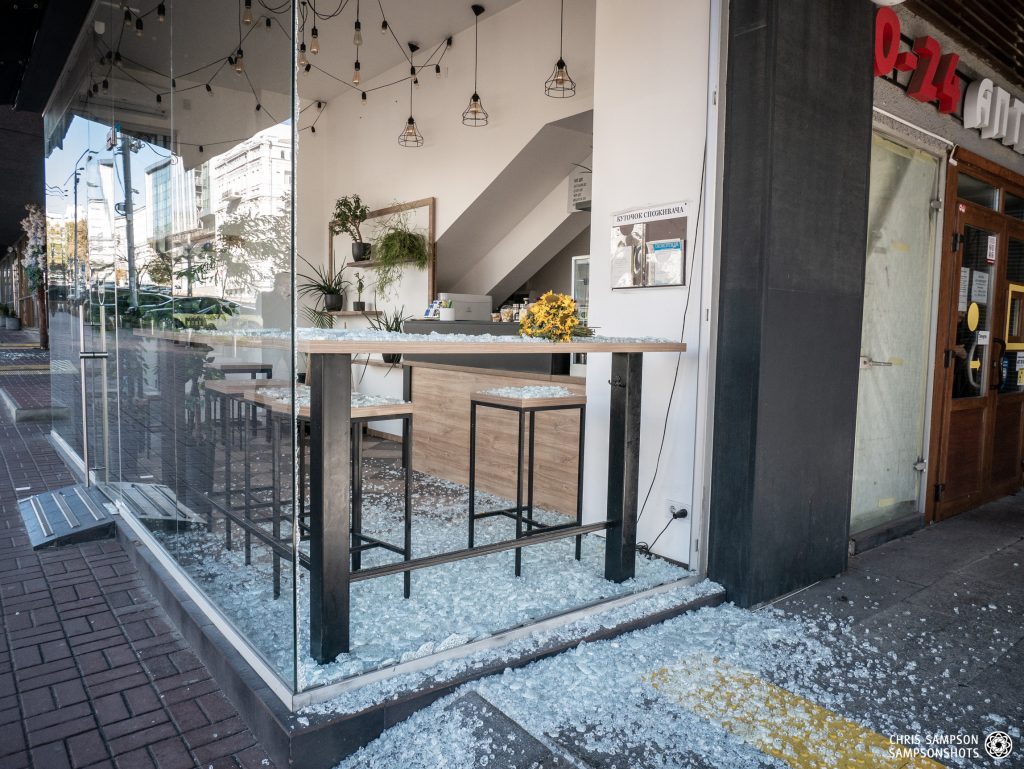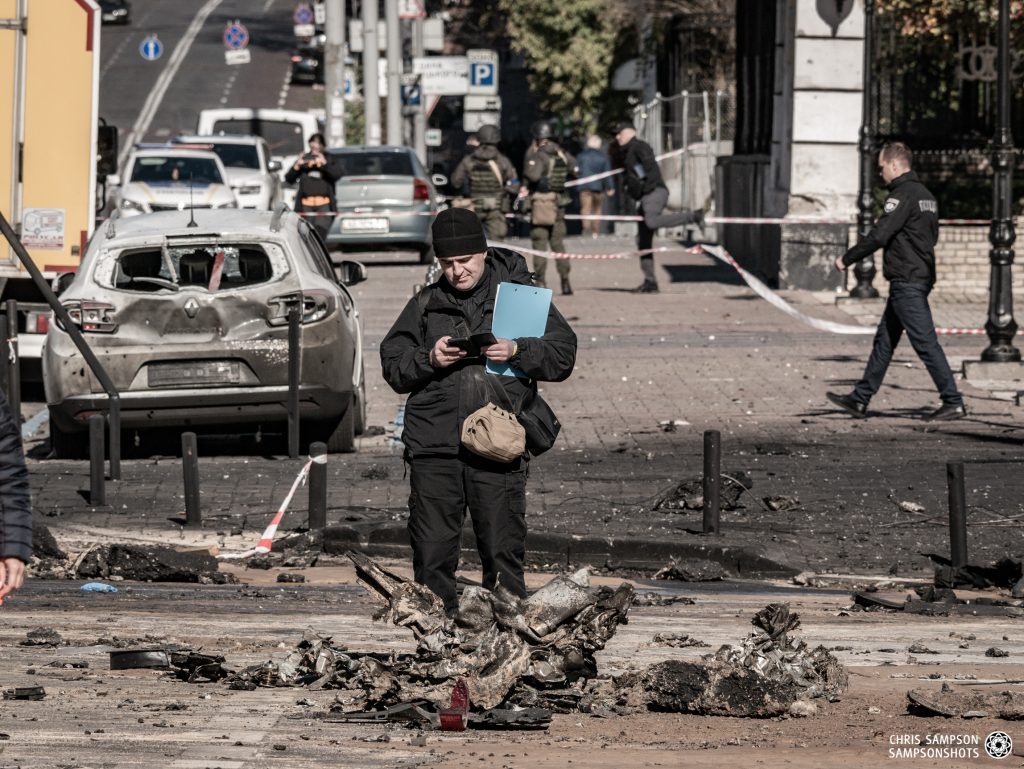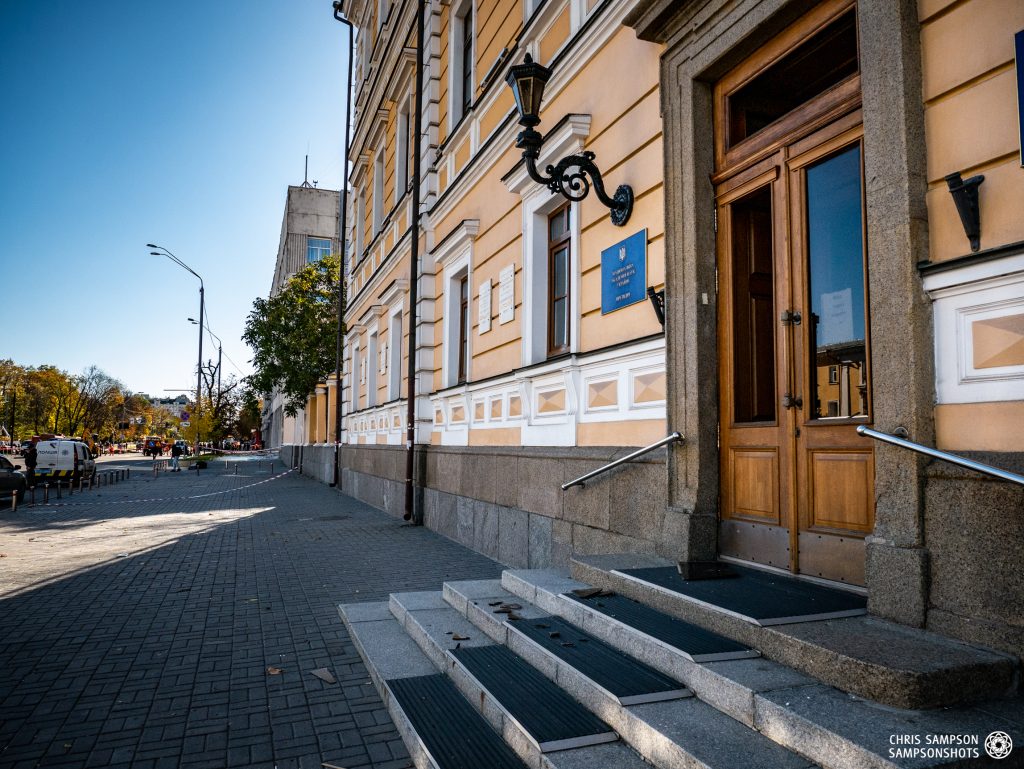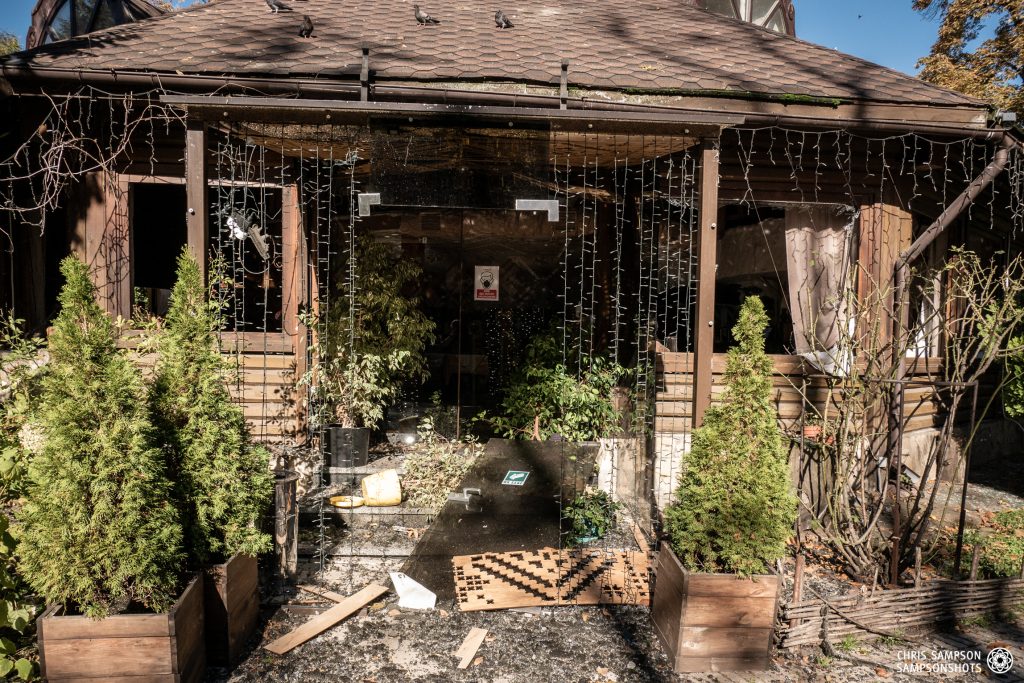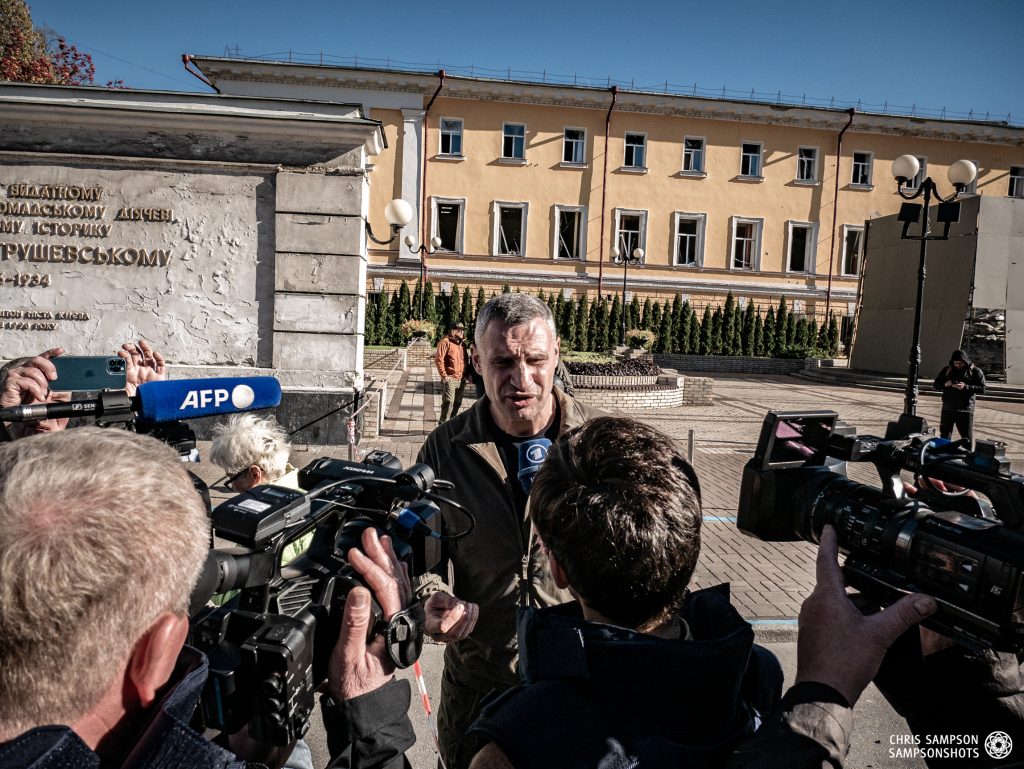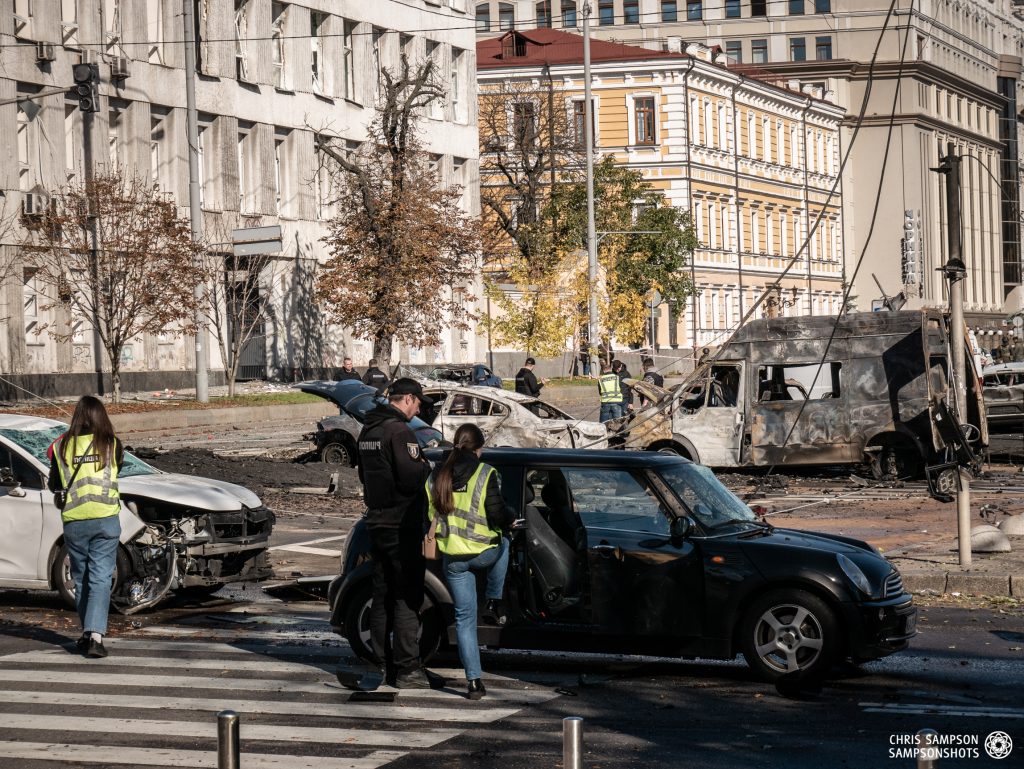 Along the banks of the Dnipro River between Volodymyrska Hill Park and the People's Friendship Arch is the pedestrian bridge commonly known as either Klitschko Bridge or Glass Bridge. It is often filled with pedestrians, children, and people of all ages. They may walk, ride their bike, or use scooters through here, especially on days of pleasant weather.
Musicians are often positioned along the various bends to entertain the audiences or those passing by and there are no military targets near the location. The Russian missile just barely missed underneath the bridge and hit the lower sidewalk below. This area too would ordinarily be host to joggers, scooters, or bike riders and pedestrians enjoying a morning walk.
The closed circuit video feed shows the blast strike just underneath resulting in the blast wave damage to the glass across the bridge. It remains closed for repairs and assessment. It is purely a civilian bridge with no strategic advantage in war.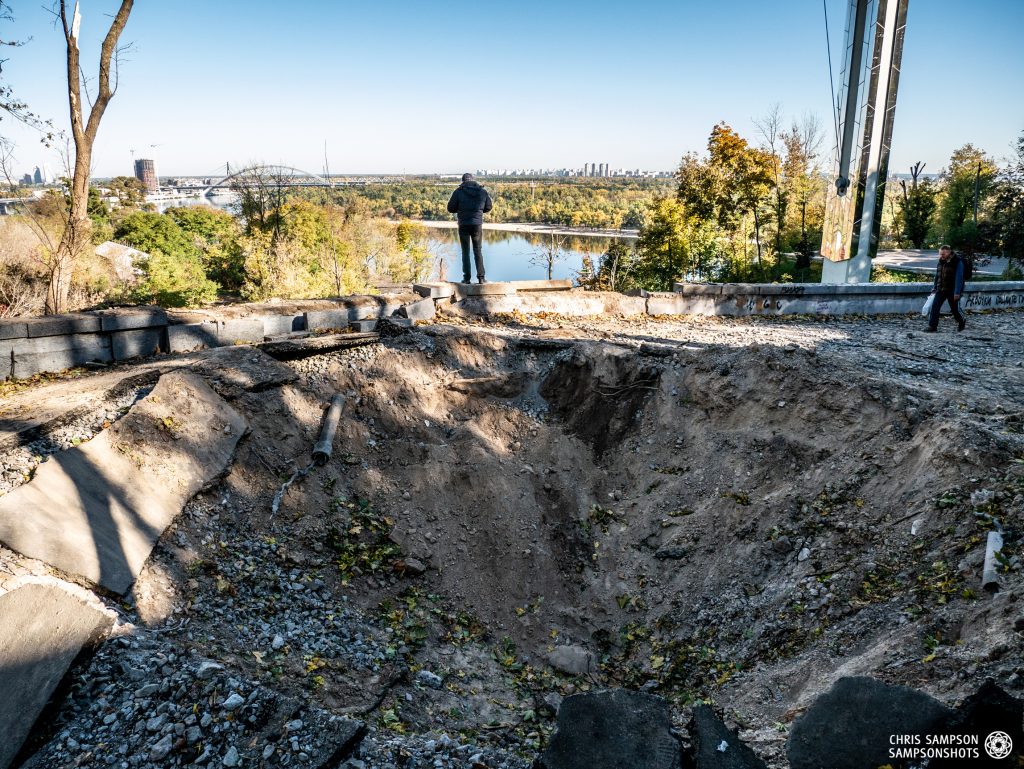 Further west of the Shevchenko Park blasts: 101 Tower,  which houses Samsung's Research & Development Head Quarters, was damaged by one strike that hit the buildings at its eastern-facing base.  Andriy Fisunenko, VP for R&D, confirmed a hit on their building via LinkedIn, and confirmed there were no casualties, 
Windows were damaged further up as the lower section was cleared by blast waves for over 20 floors. The distance of damage extended for blocks as windows, shutters, and doors were left on their hinges.
The 101 Tower is also the location of the German visa office. The official embassy personnel said their staff works at another location and are all safe. Questions arose at the time about how Germany might react.
The Samsung company uses the building for its research and development work.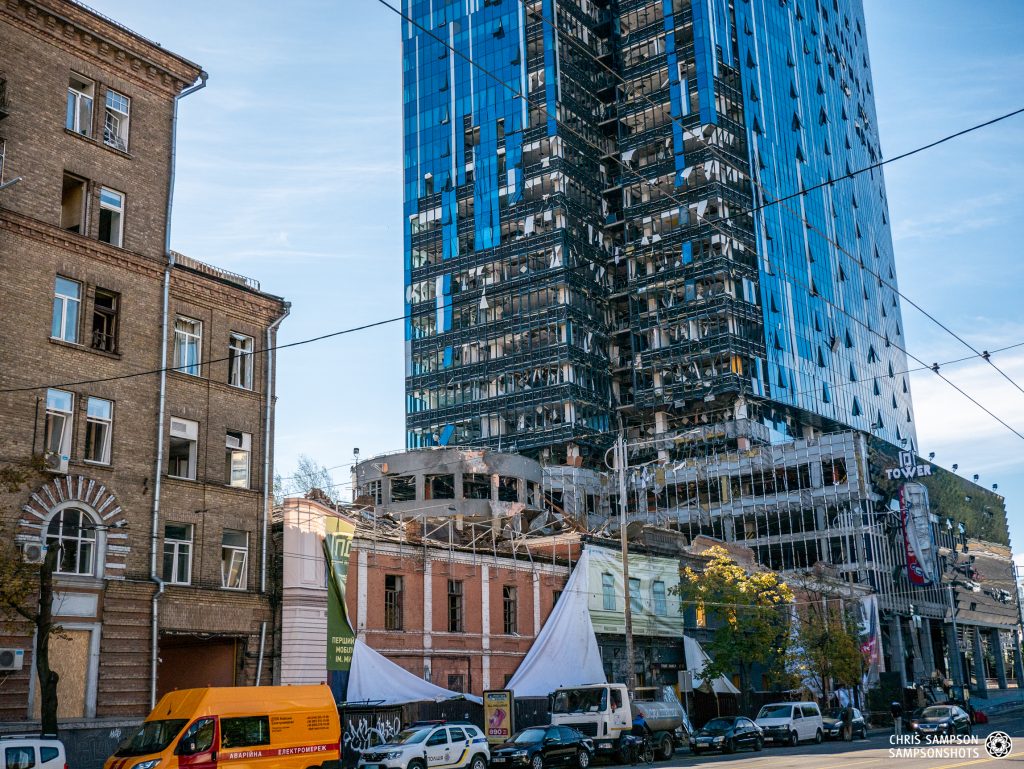 THE OUTSIDE WORLD CHIMES IN
At the time I was doing a live call with colleagues in America, who were able to monitor the outside news, and get reports from other areas of Ukraine being hit by attacks. I was also getting texts about the situation in other parts of Ukraine. The most notable contact was in Lviv, with a friend telling me at least 5 impacts had occurred and that power and cell service had been affected.
In Kyiv, there was a very brief period of service loss. Simultaneously reports were coming in of hits on Kharkiv and Dnipro affecting power. There were also impacts in Poltava, Ivano Frankivsk, Sumy, Khmelnytskyi, and Zhytomyr regions. Over and over I was getting big-picture information from Ukrainians that this was a massive attack.
Mayor Vitali Klitschko was at the site after it was secured and gave a press conference stating that this was more Russian terrorism and that Ukraine would stand up to the attacks. He said these were a sign of weakness. The mayor's update included the death toll, injury count and assessed the damage to infrastructure but said those items would be operational soon.
When asked about the targets, he said it was clear these were civilian targets. He also thanked the United States for the support and friendship.
KYIV STRIKE OCTOBER 10, 2022
SHEVCHENKO PARK INTERSECTION
SHEVCHENKO PARK PLAYGROUND
THIS STORY WAS CREATED BY INDEPENDENT JOURNALISM.
Please consider a donation to fund our mission.