A week after a missile attack on the Samsung R&D tower, aka 101 Tower, Putin hit the same neighborhood in the Panʹkivshchyna district. At least 5 people were killed in the attack on a 120 year old brick building. 
For hours, the rescue workers pulled apart the blast site even as air raid alerts were still in effect. Without masks for the smoke and fumes, workers intently focused on finding survivors or victims. The smoke filled the street for blocks and left a haze over the entire area.
In this attack, a pregnant mother to be and her husband were among the victims of the drone attack. Bohdan and Victoria Zamchenko were killed. It would have been their first child. There were three other victims in the compounded strike. The city said 18 others survived and were being treated.
The real intended target would seem to be the power station in the area as Russia has crippled 30% of Ukraine's power supply in the past week as the temperatures begin to drop towards winter. The following day, another attack hit the Tets 6 plant on the east side of the Dnipro River.
In other areas of Ukraine, as it was a week before, outages from strikes on power supply were growing. From Lviv, Kryvyi Rih, and Dnipro, and others, reports of outages spread across the country as the Russians target the power supplies of civilian population centers.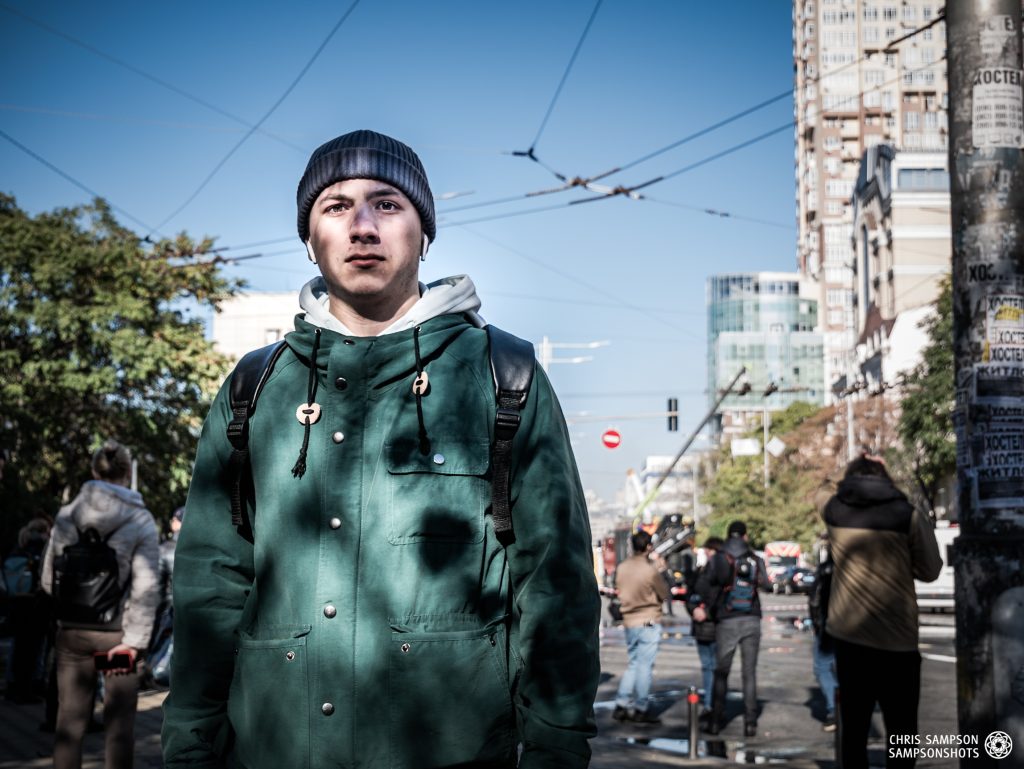 Local resident, Yuri, after two attacks on his block in a week.
The next day's attack on Tets 6 and other locations began to interfere with not just electricity but the water supplies. In a few hours, many of those services had been restored. But the sensitivity to the air raids would remain.
For the residents, they are sheltering in place and listening to the air alarms that start the morning. If there were times where those alarms fell on desensitized ears, that time was over. After the October 10, 2022 air strike on the 101 Tower, Shevchenko Park and the warehouse near South Bridge, residents in Kyiv stayed home from work and stayed in shelters or underground corridors.
On top of this, more air raids rang out causing people to flee the area for shelter in case of a double tap strike on the same target. Press were cleared from the area they had just gathered across the street. As you ventured away from strike area, live appeared subdued but more normal.
Local shops were thankful they were not yet open for business but did not know how long that would be true. Many of them already had their windows boarded and sandbagged just in case.
The Ukrainian military said 43 Iranian made drones were deployed to attack and 37 were destroyed.
Fire and rescue battle the flames and smoke to rescue survivors.