THIS STORY WAS CREATED BY INDEPENDENT JOURNALISM.
Please consider a donation to fund our mission.
On Friday, July 29th, 2022, federal agents knocked on the doors of several Americans in both St. Louis, Missouri and Saint Petersburg, Florida, who had long been caught up in working with a Russian named Aleksandr Ionov. Ionov had fueled their interest in both separatism and anti-American rhetoric, but also to weaponize their voices in America against Ukraine. Three groups and several members of each groups were identified only as "U.S. Political Group 1", "2", and "3" or "Unindicted Conspirator 1", "2", and "3".
In a series of operations, Ionov worked closely with FSB officers to carry out mission objectives with the three groups. However, these activities were hardly a public mystery for anyone watching the operations play out in public. For several years, various journalists have covered Ionov's actions but he had not come under indictment until after the invasion of Ukraine. Two of the groups had even traveled to Moscow to take part in separatism movement conferences under the banner, "Dialogue of Nations". These conferences saw separatists and extremists from around the world that were carefully groomed by the Kremlin for its objectives with a persistent lure of "independence", "self-determination" objectives that echoed the "liberation movements" of the 1970s.
At the center of the most active operation was a group called the African People's Socialist Party under its leader Omali Yeshitela based in St. Louis with auxiliary operations in other cities including Saint Petersburg, Florida. Born Joseph Waller in October 1941, Yeshitela was a prolific activist with his Uhuru message and an elaborate media operation that included websites, social media and a radio station operating under the banner, "Burning Spear". Yeshitela was an encyclopedia of the activities of the U.S. government's actions against the black community and frequently cited the history of interference and attacks on leaders from Marcus Garvey, Fred Hampton, Malcolm X to the modern martyrs like George Floyd.
It was in this area of legitimate grievance that the Russians would exploit Yeshitela's position to attack both the United States and use his voice to represent him as a supporter of the pro-Russian attacks against Ukraine. Yeshitela unapologetically embraced Russia as an ally with "Russia never did anything to me. It was America that did this" as he recited a history of violations against the African American community.
Along with Yeshitela, were his wife Ona Zene Yeshitela, his supporters Eritha Cainion (aka Akile Anai), Jesse Nevel, a white American activist in the movement, and Gazi Kodzo, who would later form the group identified as "Black Hammer" aka "U.S. Political Group 2" in the federal indictment. The indictment listed a long series of activities that demonstrated these individuals were openly aware they were working with Russian government operatives through Ionov and were willfully traveling back and forth to Moscow to enjoy this unencumbered support for their ideological objectives.
In addition to the cause of the APSP, African People's Socialist Party, and Black Hammer, was the California secessionist individual, Louis Marinelli. Marinelli operated a small group called "Yes California" focused on secession. Ionov invited him to speak at the Diversity of Nations events in Moscow. Marinelli had already moved to California to teach English. Marinelli organized demonstrations in Sacramento and Ionov promoted them to his FSB contacts. The small protests in Sacramento were so poorly attended that Ionov's FSB handler demanded more evidence that the operation was worth the effort. Marinelli maintains that at no point was he "under the control" of Ionov.
Marinelli wrote a response to his involvement with Ionov and the indictment. Read Here.
The indictment showed not only did Ionov help to puppeteer various protests, petitions and conferences of separatists, but he crossed the line into sending funds for political campaigns of Cainion and Nevel in Saint Petersburg, Florida. Cainion ran for city council and Nevel ran for mayor, yet neither yielded enough votes to make a dent in the election results. Cainion, however, did raise the notice of a flood of campaign funds in August 2019 that was so enormous the local city clerk, Chan Srinivasa stated he had "never seen so many contributions in one week" to a local paper. The funds were nearly entirely from outside the district and the state.
To give himself the appearance of legitimacy, Aleksandr Ionov operated under two banners that appealed to these groups. The "Anti-Globalization Movement of Russia" or AGMR was the umbrella of support these groups cooperated with in their pursuit of ideologically driven goals. It was Ionov who consistently sent funds for flights, logistical support for protests and campaign funds.
But in addition to the AGMR, he created another front group called the "International Committee for the Protection of Human Rights" and even falsely suggested it was working with the United Nations. The branding even used the world globe imagery associated with the UN. He promoted the idea that these groups were united with an international cause to stop American torture and genocide and ultimately used their ideology to bolster the pro-Russian narrative of a "nazi problem" in Ukraine.
As he worked the American groups, he then would report back to both FSB and Russian officials about the impact of these operations. He openly appeared in video interviews and photos with each of the targeted groups. He would send detailed updates to his Russian handlers on the campaigns in Florida and they in turn said, "our election campaign is kind of unique. Are we the first in history?" about the city counsel race of Eritha Cainion. Ionov bragged that the primary votes yielded by Cainion we the result of his help as the candidate "who we supervise".
After the indictments and morning raids by the FBI, Yeshitela and Cainion went very public and doubled down on their support for Russia unapologetically. Yeshitela took to Facebook to release a 30min video detailing the morning raid while Cainion held a press conference detailing her morning experience. Neither yielded in their support for either Russia or the assistance from Ionov.
Oddly, in 2016, Ionov even asked Yeshitela's group to chime in on the ban of Russian Olympic team's ban for doping. This led to a post on the Burning Spear website in solidarity with the banned athletes. When the Kremlin had a gripe, they could count on Yeshitela to deliver a message of solidarity.
Regarding Ukraine, the voices of the African People's Socialist Party members were consistent, in its view it was the United States that was the imperial power that was so bad that Ukraine had to be invaded by Russia in a defensive measure. It was America, through the persistent boogeyman CIA, who convinced the poor Ukrainian people to overthrow Yanukovich in a "coup" in February 2014. Despite the rhetoric of self-determination at the root of their rhetoric, they failed to see any identity in the Ukrainian cause for resisting the aggression of Russia in its imperialist objective to seize upon its sovereign neighbor. Despite their open embrace of separatist voices from the Donetsk People's Republic (DPR), they saw no room for the desire of Ukrainians to resist the dominant power of the Russian objective to wash out the Ukrainian identity.
VIDEO: FBI announces indictment against Russian influence agent Aleksandr Ionov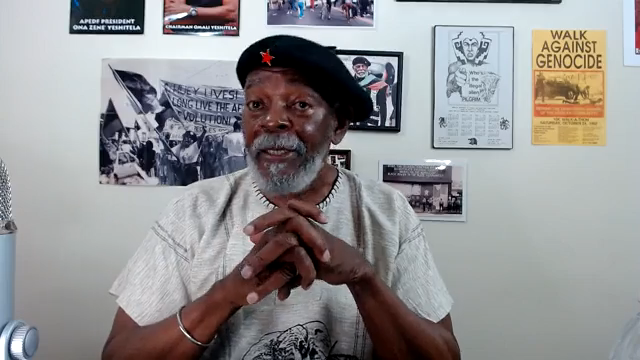 African People's Socialist Party leader Omali Yeshitela responds to raids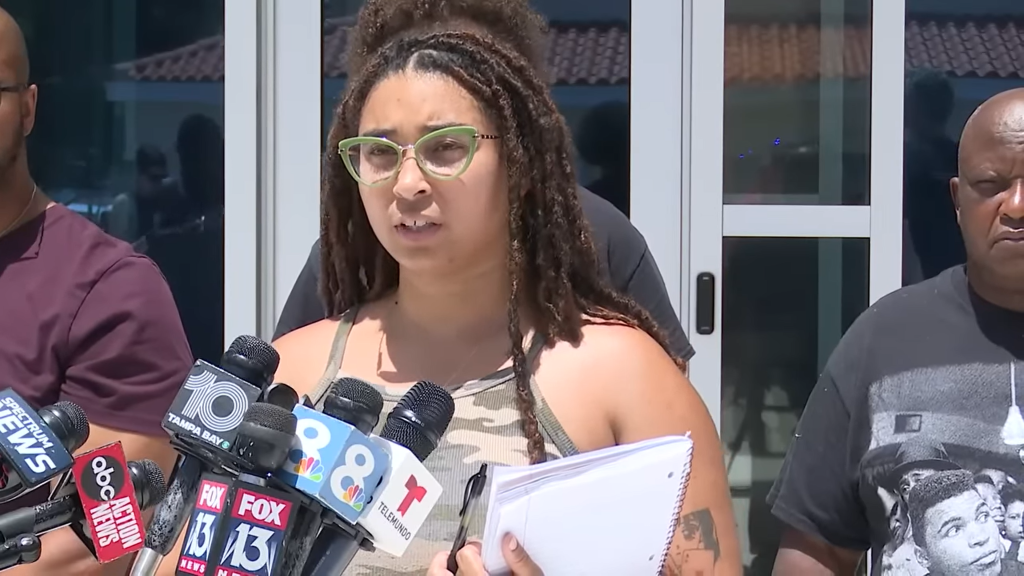 APSP member, Eritha Cainion, responds to FBI raid in Saint Petersburg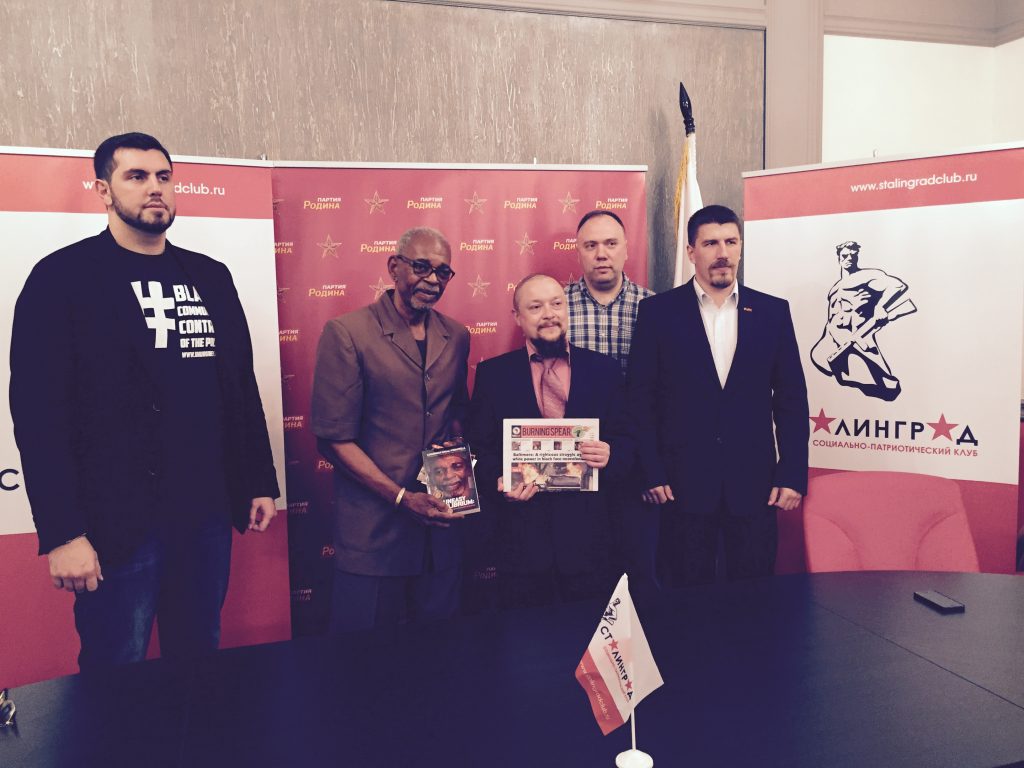 Russian influence agent, Aleksandr Ionov, appears with APSP leader Omali Yeshitela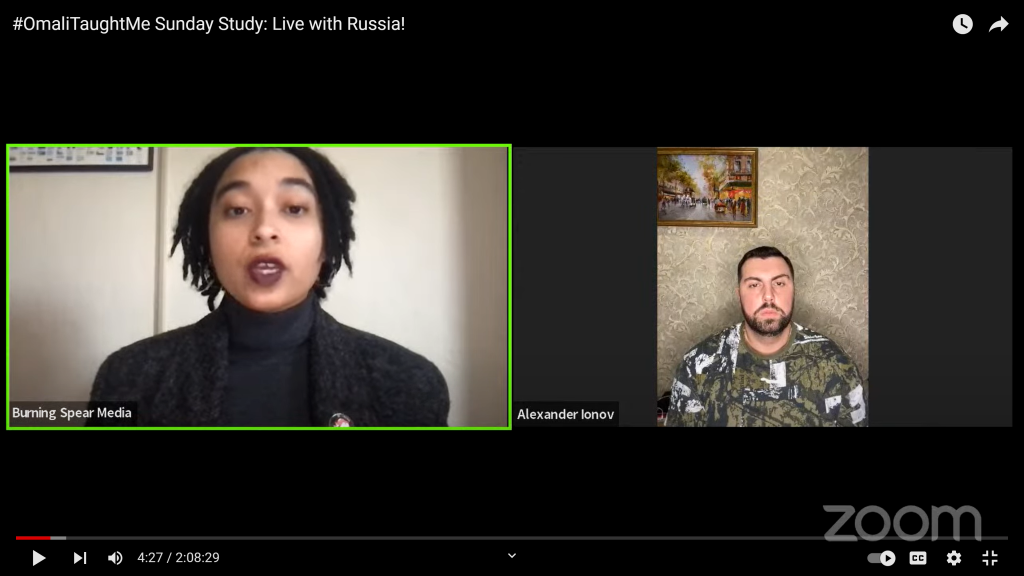 Russian influence agent, Aleksandr Ionov, appears on Burning Spear broadcast to attack Ukraine in March 2022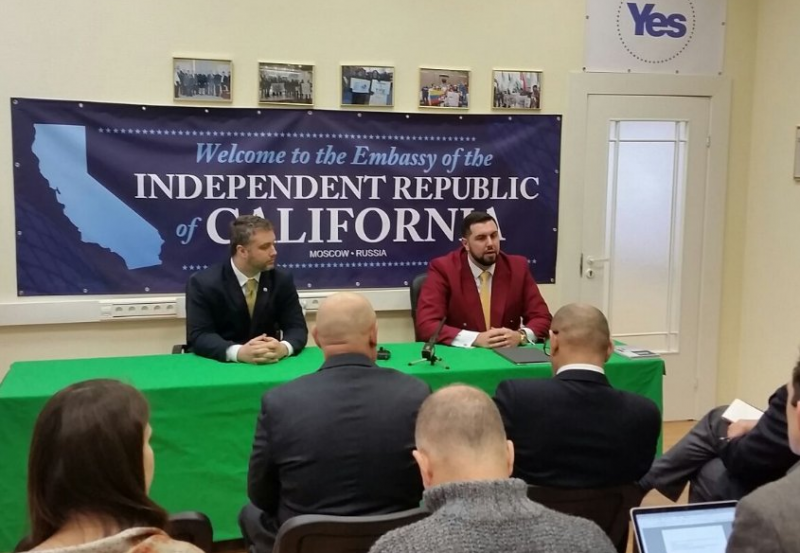 Russian influence agent, Aleksandr Ionov, appears with CalExit leader
Ionov was known to be an active voice in the Antimaidan agenda, a mission to push the Russian narrative that they were entitled to control the sovereign country of Ukraine. In various videos he appeared in with APSP members, he spread disinformation about the nature of the Ukrainian revolution of 2014.
It would be this narrative coming out of the mouth of Eritha Cainion in a 2022 broadcast who said it was the 2014 coup that "paved the way for the ascendency of the reactionary white nationalist government of Volodymyr Zelensky, former professional comedian. Zelensky is tied to the paramilitary, antiRussian, proAmerican Svoboda party."
In fact, Zelensky is Jewish, and a member of the "Servant of the People" party, not Svoboda. The Servant of the People party has been described as liberal and even socialist, where the Svoboda party is a far right party not in power.
And while Cainion worked to promote Ionov directly. Yeshitela said the invasion of Ukraine by Russia was because of a "white man's lynching" against Russia by NATO, despite the fact that Russia is 80.9% white.
In March 2022, Ionov asked former APSP member and founder of Black Hammer, Gazi Kodzo to fly to California to protest Facebook over crackdowns on pro-Russian disinformation about Ukraine on its platform. He paid their fare, provided the posters and then applauded them with ego padding affirmation in the form of a Russian news story.
What is odd about this operation is that the Uhuru movement of Yeshitela, the Black Hammer cult under Gazi Kodzo or the Yes California group under Louis Marinelli are so small the impact upon American ideals and objectives in the world would barely notice their existence and their indictments would largely be seen as nothing more than a freak show. Yet, Ionov spent at least  seven years cultivating their agendas along with other extremists and fringe groups to champion the Kremlin agenda of "America Bad".